SHOW REVIEW: Vans Warp Tour 1998
I.C. Light Amphitheater -- Pittsburgh, PA (7.22.98)
By: Jeff Lockwood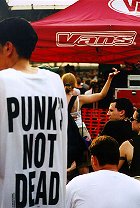 Punk rock, and any band that consider themselves to be punk, are hot commodities right now. Big business stands to make a lot of money from the proper marketing of today's hottest acts and most rad sports. The bands that we love(d) in our rebellious youth are now helping to sell shoes and chocolate flavored beverages.

It was inevitable. Sooner or later it would have to come to events such as the Vans Warp Tour and it has. The proliferation of "extreme" sports-such as skateboarding, BMX, climbing, video game playing and rollerblading-has reached critical mass and so has its soundtrack of punk rock, ska and everything in between. The Vans Warp Tour started a few years ago to bring the kids all these things which they love-music and non-mainstream sports.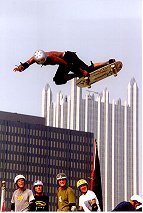 This tour, like so many tours today, migrates from city to city bringing with it a plethora of different bands and a whole slew of counter-culture extras. The Vans Warp Tour is unique because the tour travels with a huge half-pipe and several professional skaters, bladers and BMXers who perform for the crowd. You can be sure that these people are wearing Vans. Concert goers can also choose to monkey around on the climbing wall.
The Deftones, Bad Religion and NOFX headlined this tour of more than twenty bands on four stages. Each band was kept to about a twenty minute set. The whole event flowed rather smoothly. The main concert pavilion stage was split in two. While one band rocked the crowd, the other band would be setting up right next to them. The second stage, which showcased bands like Snapcase (who were on the main stage last year), was under a tent on the other side of the concert site.
Unfortunately these bands were forced to play their sets during main stage activity. The fourth stage consisted of a gutted old school bus which opened up into a stage. I walked passed and saw some live karoeke happening with Eric from NOFX playing guitar. And The Cherry Poppin' Daddies represented the latest music craze, swing.
Seven thousand people persevered through extremely high temperatures to see their favorite bands and watch their favorite athletes. The bands seemed to know this. Even though Bad Religion has been around for nearly twenty years, this balding and graying band still managed to get most of the crowd to chant along to their anthemic songs. NOFX erupted the audience into a twenty minute sing along with their extremely catchy, comical and frenetic set. A reunited Specials gave the rather young crowd a glimpse into what ska used to be like while Save Ferris showed the crowd how bad a band could suck by attempting to play ska.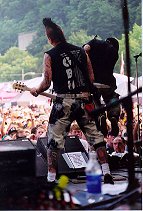 Rancid played a quick set complete with rippin' songs off each of their albums.
I am a twenty six year old white male and I was definitely a minority among this young crowd because of may age. But I know I was not alone. Ten years ago I was wearing a Descendents t-shirt and riding my Haro FST freestyle bike all over town. I am now looking at pre-teens, teens, adolescents and adults doing the exact same thing. Is it savvy marketing or just some great fucking way of life and form of expression that has finally caught the eye of the main-stream?