INTERVIEW: UHF
Picking Up Wider Reception (Kittridge Records)
By: Stan Hall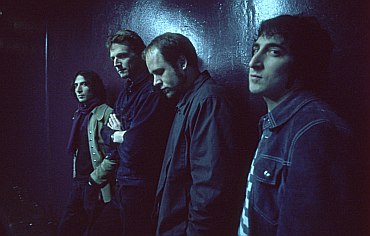 When a band achieves a modest level of success, there's often a fear of the plateau. Is this as far as the good fortunes can be taken?

Should the band break up? Become resigned to playing the same small clubs and recording low budget albums until apathy, from both fans and within the band, sets in? Like a couple wrestling with the question of a lifelong commitment, the members have to figure out whether -- and how -- to take their relationship to the next level.

The Portland, Oregon neo-psychedelic pop band UHF is at this crossroads as it begins to push for a wider audience -- a process that guitarist-bassist Jordan Leff says is "like Darwinism -- and it's not even that fair!"

Welcome to the music industry, lads. But UHF has two compelling reasons to go all out in a bid for international stardom.

First, the core of the group consists of Leff and his identical twin brother Jeremy, the band's vocalist-keyboardist, and since they're stuck together their whole lives anyway, they might as well see what happens. Non-blood relatives Matt Johnson (drums) and Jeff Nelson (bass/guitar) aren't exactly clamoring to end the journey at this point either.

Second and most importantly, UHF's third album, If It Was Easy, is an artistic breakthrough and a clear indicator that the band isn't done growing. Produced with great clarity by Gregg Williams (Dandy Warhols, the Bella Fayes), the record collects 10 vibrant, accessible songs, performed with redoubled skill, enthusiasm and conviction. And unlike UHF's promising but spotty previous efforts, Pieces (2000) and Lottery (2001), its major influences -- the Small Faces, the Kinks, the Pretty Things, early Who -- are not the story this time around, but a starting point. If It Was Easy finds UHF establishing its musical identity, leading the listener to think, "Coldplay and Travis made it big. Why not these guys?"

The band agrees that working with Williams, rather than self-producing as before, helped improve focus and discipline -- the album-making process, from tracking to mixing, took only two months of work, not bad for such a detailed result -- and provided an objective viewpoint. "We went in with 30 to 35 songs and let Gregg pick which 10 would go on the album," says Jeremy Leff. "It made for a better album and cut out the arguments. We fought for things here and there, but for the most part we totally trusted his judgment."

It was a good move for these highly prolific songwriters, who despite keeping a one album per year pace still have whole alternate albums of unreleased songs in its repertory. But unfortunately, for practical reasons, these songs aren't available to the public. "We can't really afford to put out more than one record a year," laments Jordan Leff.

"And we end up not ever using a lot of older songs, because we just enjoy the newer stuff we're working on," Johnson explains.

"There are some strong older songs that will stay in our minds and we think, 'ah, maybe we can use those,' until someone tells us they suck," says Jordan Leff. "That's one of the fun things about working with somebody outside the band. They can give you some perspective -- 'I think you just like that song because it's new. It's not as strong as this other one.'"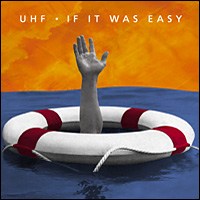 If It Was Easy was released in September 2002, and UHF plans to work the album for about a year -- or, as Johnson puts it, let it "work us" -- before turning its attention to making a new one. Touring is a big part of the strategy, as the band has staged a succession of 10-day mini-tours up and down the West Coast from Vancouver to San Diego. As far as strongholds go, says Jordan Leff, "the Bay Area and Sacramento are good. Davis (California) is good. San Francisco proper is best. There are a lot of shitty bands in those towns, but on top of that, there are a lot of true music lovers who aren't so saturated with the music industry like they are in Seattle or L.A. or New York, in that they actually see live music that maybe they've never heard--people willing to actually go and do that stuff, which is not the case in most other cities we've found." As far as the band's Portland base, says Jeremy Leff, "the scene here is cyclical. Right now it's feels like it's in that low end, about to come back up."
UHF clearly needs to tour beyond the Left Coast and, given its Anglophile leanings, a U.K. tour would make sense. Only if it were so easy, says Jordan Leff: "You have to be sponsored by a promoter, believe it or not, to get a British visa as a touring band."
"Someone told us we ought to go live in Sweden," says a bemused Johnson. "The novelty of four Americans living there, and with all the attention given the Swedish bands, we'd be sure to get some press that way."
UHF is also trying other, less conventional methods to get its music heard. Last year, the band sold the opening track on If It Was Easy, the moody, dreamy "She Don't Know" to NBC for use on the primetime drama Providence. "And they even used our name," says Johnson. "The scene had a DJ playing the song, and he said, 'this is a new band from Portland, UHF,' and then put the song on and talked over it." General Electric's (NBC's parent company) compensation money wasn't bad either. "Yeah, it was in the thousands, not enough to live on, but enough to help us pay off our van," allows Jordan Leff. The potentially ominous angle: the UHF song was used in what turned out to be the final episode before "Providence" was canceled.
The band also got to acknowledge one of its major influences, the underrated 60's and 70's British group the Pretty Things, by contributing a cover of "She's A Lover" to Pull Up the Paisley Covers: A Psychedelic Omnibus, an album of tribute songs to lesser-known lights of the psychedelic era (available at www.aether-or.com). An additional thrill was provided when the Pretty Things' founder and leader, Phil May, called the band -- twice -- to express his appreciation of UHF's version and offer encouragement.
When UHF's fourth record is released, will it be on the band's imprint Second Story Records, or a bigger, perhaps corporate label? "Well, if it's not a major, then we'll probably just put it out ourselves," says Jordan Leff. "Most indie labels can't really give you more than what we can do on our own." A big factor in the band's decision is having control over its sound, including being allowed to retain Gregg Williams' production services. The band members have been talking, in fits and starts, with a certain subsidiary of the colossal Universal Music Group, but nothing firm has materialized.
Part of the problem is that, as tired as it has become, an angst-ridden, metal-derived sound still rules "modern rock" radio, and UHF's gentler, poppier approach is not the sound of the mainstream. But with the emergence, however modest, of the neo-garage-rock sound, the ability of Coldplay to avoid the sophomore slump, the current Grammy nomination of like-minded Swedish band the Soundtrack Of Our Lives and the general feeling that a sea change in popular tastes is starting to happen, it seems UHF's shot at the big time could come -- if they make the right connections, if they make smart decisions, if they meet the right people to provide the necessary breaks.
Jeremy Leff sums up the band's ultimate goal: "We hope for the most people possible to hear our music. We're also interested in making art for art's sake, for whatever that's worth in this world."
"We're not saying it is art, by the way," his brother qualifies. "We just say we're trying to create art. Trying to make something that will last just beyond the first listen."