INTERVIEW: Ultimate Fakebook
Are You Ready to Rock?...Ultimate Fakebook says Open Up And Say Awesome (Ultimate Fakebook)
By: Randy Harward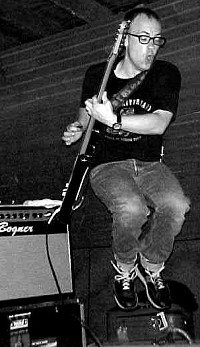 (Originally published in the Salt Lake City Weekly)

"Are you ready to rock? It's not a question, baby!" ... "Brokyn Needle" The lyric, from Ultimate Fakebook's 2000 geek rock opus This Will Be Laughing Week (Sony/550), will forever follow the Lawrence, Kansas trio. You see, UFB is about the Rock. No, not the wrestler, trailer boy--the sound, the ethic. Rock without pretense. Rock without attitude. Unabashed, gleeful, fist-pumpin' rock and/or roll. Big riffs, sing-along choruses fortified with falsetto background vocals, and "real drums." That they're lumped into the emo/indie crowd (mucho pretense, m?s attitude) is incidental.

"We've just always sort of done our thing," explains bespectacled guitarist/vocalist Bill McShane, "not taking ourselves seriously and having fun. We've never been cool and we probably never will be. We're probably the biggest idiots and dorks there ever was. We don't really think we fit in with that [crowd]. We can understand it, but at the same time, we look at our music and go, " What?" It seems so blatantly commercial and catchy and cheesy."

By all rights, Ultimate Fakebook (McShane, bassist Nick Colby and drummer Eric Melin) should have spent the last two years rocking the kiddies from coast to coast, supporting TWBLW while one of umpteen potential singles surfed the airwaves. Sadly, Sony's 550 division...and, by association, UFB...succumbed to downsizing. It's the same stale tale, only UFB made out like bandits. "It wasn't any sweat off our backs. They just released a record we'd already put out [TWBLW was originally released on KS indie Noisome in 1999] and we still got paid what they owed us for a second album. They just weren't gonna put it out." The cash bought a van and paid for UFB's spanking new third album, Open Up And Say Awesome, released last month on Louisville indie label Initial Records.

OUASA finds the trio again doin' their thing, delivering ultra-earnest anthems and ballads. Songs of love unrequited ("Valentines"), fulfilled ("When I'm With You, I'm OK") and troubled ("Wrestling Leap Year"), stand shoulder-to-shoulder with tunes about rocking out like big dorks ("Popscotch Party Rock" "Goddamn Dance Craze"). The only difference from TWBLW is it's done with extra oomph, which could be taken as post-Sony catharsis. It's not, though. "We turned up the Rock, that's for sure," McShane enthuses. "We didn't want to make this serious, mature album. We were like, "Let's make an album that is fun for our fans to rock out to, and [for us] to tour behind. Anthems."

And so, as the band continues its headlining tour of the States, it warrants repeating: are you ready to rock? 'Cause, that lyric? It's not a question. It's a mandate and a caveat, as UFB's commercial-catchy-cheesy anthems are overwhelming within their super-fun "really low-budget, like, arena show." Past shows have included fluorescent pink and green mullet wigs and this year, they're bringing the "Rock Box." McShane explains the UFB edition of Cheap Trick guitarist Rick Nielsen's lighted mini-stage is an unerring crowd-pleaser. "You get up on top of that for a solo and everybody just goes nuts. It's awesome."

On that note, we'll exit to another pertinent line, this one from "Popscotch Party Rock": "I'm worried now that you'll be scarred/by the vision of some Kansas kid just rockin' out on his pink guitar/whoa-oo like a rock star--I'm stupid 'til the end."