INTERVIEW: Tracker
Film Guerrero and Tracker Main Man John Askew Discusses New Tracker Album (FILMguerrero)
By: Alex Steininger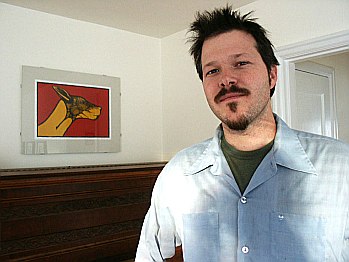 "Tracker is a studio project foremost, hence the name," says John Askew, owner of Portland-based indie FILMguerrero and the man behind Tracker. "I like to think of the recordings first, then the live."

"Finding the right players to dive in and stretch out, it is a lot of experimentation. So getting a live band really became accidental. Whoever was there when there was a show or whatnot. When I did a West Coast tour I gathered three players to go with me and along the way we picked up a pedal steel player and a noise man. They were just into going. In the beginning, circumstances really were the main fuel to Tracker. The songs were there, but a lot of times the players shifted around. It made it all pretty interesting, you never really knew what would happen or how it would end up."

Beginning in 1998, when Askew was a freelance engineer at Portland's Type Foundry Recording Studios, he wrote and recorded a batch of songs, the result of which became Ames, Tracker's debut, released on Askew's upstart label, FILMguerrero.

Without a band to tour in support of the record, Askew called upon friends to help him play live, the lineup ever-changing from night to night, show to show. Eventually calling upon drummer and longtime friend Michael Schorr (Death Cab for Cutie) to help him out, Askew and Schorr began playing out as a duo, picking up musicians as they went along. That is, until Death Cab for Cutie's rise to indie stardom, which kept Schorr busy.

This sent Askew back into the studio where he recorded another batch of songs, using selections for a variety of compilations, and to release Ames's follow-up, Polk.

Ames helped establish Askew and Tracker an international audience, with European music fans in particular appreciating Tracker's late night, coffee-shop folk fused with rock ambience.

"Since Ames, Tracker has gone from a recording project, to playing live with a rotating cast and now to a full, steady touring line-up," says Askew of the band's personnel. "The recording process remains a solo effort on my part but mostly due to circumstance. Longtime friend Michael Schorr has been playing in Tracker for the last three years. He has toured with me and helped a lot with recordings, etc. But he was playing, recording and touring in Death Cab for Cutie, therefore he lived in Seattle, so most of the time I found myself in the studio alone recording most of the parts. From there I would work with his touring schedule to design our live efforts."

Askew not only solidified a line-up since the release of Ames, he and FILMguerrero designed a marketing plan behind Polk, including a tour, promotion and other awareness-raising marketing tactics to take it to the next level.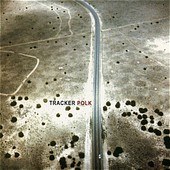 However, growth can cause complications. Besides marketing his own record, Askew upped the ante for the label, comprehensively marketing and promoting the other releases on his label, a task that took time away from the recording of Polk and left Askew frustrated at times.
"I did get frustrated and bummed working on the label when I was trying to finish Polk," he admits. "I really had to keep working on the label and keep pushing the other records, yet at that time all I wanted to do was finish the record I'd started. At times the recording of my own record seemed to drag on and loose momentum."
Askew seems to love running a label, though, despite the drawbacks. His commitment is rooted in passion and belief, more so than money or big clout, an issue most independent labels face.
"I try to operate FILMguerrero as a collective more than anything," he explains, "an artist-run label, to make sure that the bands get a fair deal and a good representation of what their overall vision is. Maybe this will allow for more forgiveness for all the mistakes that I make along the way. I am definitely not a natural businessman. I really need to figure that out. But perhaps, being one of the bands on the label, it helps me make decisions that are mostly artist-supported. Naturally, with a label so small as FILMguerrero, money is not the factor. It is about the music. I definitely only work with music that I love and with people that I like. I have made some very poor mistakes due to my lack of business prowess, but I have learned a ton."
How do Tracker's two albums compare? " Ames was a loose concept record. It was far more of an accident. When I mastered it and pieced it together to make the story happen, it sort of brought together a lot of the scattered ideas. I think it worked out. But Polk, although the process was so similar, was far more intentional, in sounds, in dynamics, in players, and in production. I think I knew more of what I was going for. Overall I'm a novice engineer, and at the time I was working on Ames I was really getting to know the studio (Type Foundry) and the recording process. Ames was definitely a way of experimenting with sounds and mics etc... you know, in the off hours while the studio was not in business operation. However, when I went in to do Polk I had a bit more of an idea of what to expect. Although Tracker does rely so much on the accidents, I think I had a better handle on them as they occurred. Some sort of control of the chaos."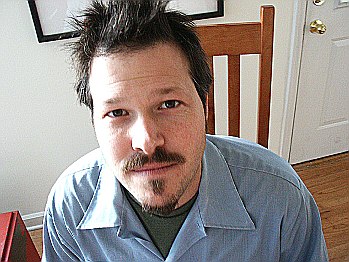 Polk wasn't an easy record for Askew to make, even with a well-thought plan on how he wanted the album to sound and where he wanted to take it. A self-admitted gear junkie, Type Foundry, where Polk was recorded, began getting in a lot of new gear, all of which Askew wanted to experiment with.
Askew went through dozens of mixes and experimented as much as he could, something he says is exciting, but trying. It further helped delay the record's release, with Askew changing the release date a minimum of five times.
The end result was worth the wait, with Askew more than satisfied with the record.
"Well, I think I favor the overall production of this album as a whole," Askew tells me. "That makes me proud I suppose. However, I'm generally a very harsh critic, and can always find the problems rather than the glories.
"I like the drum sounds a lot, and the mastering Jeff Saltzman really made this record come to life. Actually, there is a song called 'Area' which I'd say is my favorite. I took the drums from a different song and realized that there was this very long 'loop' occurring. The same thing over and over, so I made this little warped guitar line over it and about four hours later I had this song. My friends from the band Buellton were in town that day playing a show and they came by and they all added some parts. In the end it was perfect. No changes needed. I like it when that happens."
Though Tracker loves to play live, Askew seems to lean more towards the studio than the stage. "I suppose if I had to make a choice I would choose recording," Askew says with little hesitation. "I am definitely most comfortable in the studio. However, in a way it's kind of a cop-out. I could stay in the studio forever and never leave. My wife would just slide tortillas under the door so I wouldn't starve. It's very self-sufficient in there. There is a fridge, a couch to sleep on, water, toilet, and a phone. But now, playing live and making it interesting is such a challenge for me. So it seems like that is really what keeps it all making sense. Tracker 'live' has and will always change. Players and instrumentation seem to evolve and that keeps it exciting. I hope to take the 'live' aspect to a new level for sure."
Askew's plans for the live outfit include Northwest tours for starters, with more touring planned later in the year.