INTERVIEW: Transmissionary Six
Subtle, Quiet Pop
By: Alex Steininger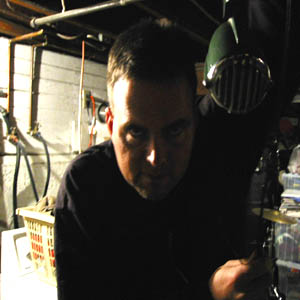 Comprised of multi-instrumentalist Paul Austin and vocalist/lyricist/drummer Terri Moeller, Transmissionary Six was formed when Austin and Moeller met on tour, Austin a member of the Willard Grant Conspiracy and Moeller of The Walkabouts.

"I was really nervous about singing the first time I sang lead," recalls Moeller. "But it was a lot of fun and a nice surprise. It started when The Walkabouts were on tour with the Willard Grant Conspiracy. Paul wanted me to sing on "Skyway" by The Replacements and that was the first time I sang lead."

Their self-titled debut is an acoustic album perfect for restless nights when you can't sleep, or for those rainy days when you want to stay inside. It's a quiet acoustic record that, on first listen, just lingers there floating in the background, becoming the perfect backdrop for an easy-going, lounge-around-the-house kind of day.

"The quietness of the songs makes a record people can listen to at night in their headphones," Moeller happily points out.

Originally self-released, Portland's FILMguerrero quickly picked up the album for distribution.

"We originally printed up 1,000 ourselves," says vocalist/drummer Terri Moeller. "We started talking to John at FILMguerrero and he decided he was going to put it out, so we sent him what we had left. Prior to that we took some to Europe on the Walkabouts tour, gave them away, or sold them, but never had distribution for it."

"The original artwork was a natural fold out with an old purple camera stamped on it," Moeller continues. "With the re-release we just replicated that."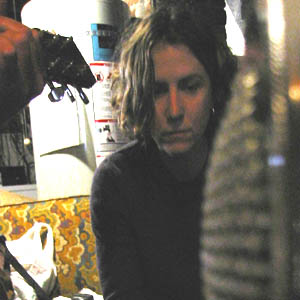 A duo while recording the record, the band fills out their live sound by playing with a revolving cast of friends.
"There are less people to filter the idea through," replies Moeller when asked what is the best part of being a duo. "Everything just goes through Paul and I. We play with different people when we play live, which is fun. It adds more to the songs."
The duo shares songwriting abilities, with Moeller writing the majority of the lyrics and Austin completing the structure by writing the chords. ?If I get stuck, Paul will come up with some lyrics that are really good, which happens often, and brings them in,? Moeller explains.
The finished product is a stunning example of how an album can be quiet and not starve the songs of melody. Moeller seems quite satisfied with the way the album turned out. Her only complaint: She wishes she did more with the drums. "I wish we could have worked on the drum parts more. When we recorded them we just threw them up there. That is what I wanted to do, but I'd do them over again if I could.?
The Transmissionary Six will embark on a West Coast tour in September.