The Greenbriar Boys
Best of The Vanguard Years (Vanguard Records)
By: Alex Steininger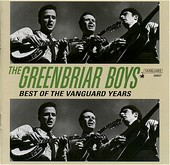 Coming along in the early 60's when bluegrass was at its least popular point, and folk music on the rise, The Greenbriar Boys entered the scene, and instantly began to make a name for themselves in Washington Square Park at the foot of New York's 5th Avenue.

Creating traditional bluegrass with a young, fresh face behind it, the trio melded mandolin, acoustic guitar, and banjo. They set out to have fun and create music that was meaningful to them. How were they to know it would catch on, with crowds of people meeting every Sunday between noon and 6pm to witness the act known as The Greenbriar Boys.

From there it kept growing and growing, The Greenbriar Boys' subsequently releasing four full-lengths between 1962 and 1966 (three on Vanguard, one on Elektra), and helping to revive America's interest in bluegrass.

They saved bluegrass from extinction. Bill Monroe may have invented it, but The Greenbriar Boys picked up the torch when nobody else had the courage to do so and kept the fire burning. That is why Vanguard Records is releasing the Best of the Vanguard Year to document this legendary band's history from start to finish, a 2-disc set that proves The Greenbriar Boys' legacy will never die.

This is lively and timeless, bluegrass true to its roots, yet inventive and creative enough to take chances, all while sounding fun and full of life, played with love and respect, coming across as if it was meant to be breathed in, not just heard. I'll give it an A+.