Green Velvet
Green Velvet (F-111)
By: Alex Steininger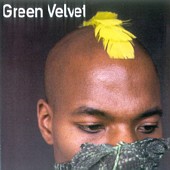 Chicago-born DJ Green Velvet takes techno to a new plateau - a distinct universe of its own, even - where twisted, quirky, and out-of-place sounds are the style and mundane is a word that doesn't exist.

"Flash" will weave you in to the distinctive vocals and shotgun blast of rhythms. "Answering Machine" gets you dancing to the deep, visual grooves while your heart feels the shit that is running through Velvet's mind. And then there is "Land of the Lost," an infectious platter of fiery beats, visual stimulation, and grooves that persist at getting you moving.

"Thoughts" is methodical and punctual, "Leave My Body" steamy and arousing, and ""Abduction" frivolous and entertaining, capturing the attitude of the moment and emerging with delicious grooves and hard hitting echoes that make you want to jump.

Some perceive techno as a stale form of music. Green Velvet, however, will change that. Spinning the genre every which way track after track, stale is another word that doesn't fit into his vocabulary. Fresh and intriguing, Green Velvet just may be the savior of techno in the year 2000. I'll give it a B+.