Rocket from the Crypt
Live From Camp X-Ray (Vagrant Records)
By: Alex Steininger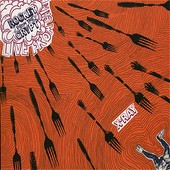 On their 23rd record in 18 years, San Diego punk legends Rocket from the Crypt, one of the only bands that can use horns in a fierce, shit-kicking rocker and still sound hard, deliver a record that doesn't let up for its entire twenty-seven minutes.

If wine gets better with age, so can punk rock, and Rocket from the Crypt prove this on Live From Camp X-Ray, a record that should, by all definitions, find them mellowing out and discussing mortgages, children, and marriage - suburban life. But, avoiding all of that, at least in their music, the band gives it their all and sweats like no other, squashing anyone that says they're too old to rock.

They even use strings on the opening of "I Wanna Know What I Wanna Know", and they still sound punk rock. Nothing can stand in their way; nothing will stand in their way.

If ever there were a band to never doubt, Rocket from the Crypt is that band. As relentless as they are punk, they deliver the melodic, hook-laden, crunchy sound with plenty of piss and vinegar, all while never alienating the hardest or softest of listeners. I'll give it an A-.