Rocket From The Crypt
Group Sounds (Vagrant Records)
By: Alex Steininger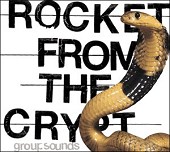 San Diego's reigning champs of horn-charged punk deliver another dose of rock 'n' roll extravagance on their latest, Group Sounds. The same rough, drunken vocals you've grown to love combined with more powerful bursts of horns, blasts of guitars, and thrusting rhythm section all propel the thirteen songs on this album straight into the stratosphere.

The youthfulness, raw power of Rocket from the Crypt hasn't gone away with age. Everything that has made them a favorite before is contained on this album. Their rhythm section is impeccable. The guitars are hot and on fire, leading the songs through everything, followed by the melodic sense of the horns, which jump right in, add the melody line, and re-juice the songs, ensuring they won't grow tiring or stale.

Punk rock will never be the same, that's for sure. With songs like "Carne VooDoo," "Out of Control," "S.O.S.," "Dead Seed," and "Spitting," the band shows how fast and hard they can play, as well as how slow and hard they can play. Some songs get right in your face and cold clock you, while other songs come up behind you and just blindside you. One thing is for sure, no matter how slow or how fast they are, they're still punk rock. I'll give this an A-.