Birdy NumNum
The Courtship of Birdy NumNum (Num Songs)
By: Alex Steininger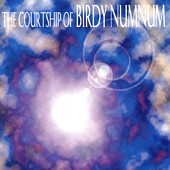 The energetic rock and harmony-fueled pop of Birdy NumNum's debut full-length The Courtship of Birdy NumNum is a splendid offering of 60's AM radio re-visited. Front man Gregarious T. Cline's vocals are the selling point, a mixture of bravado and sweetness, as he lets you know he knows he's good - without coming off pretentious.

But if Cline's vocals are the selling point, the backing vocals of bassist Jimi Biron and guitarist Justin Thorpe are your warranty that you made the right choice. They add the pop flavor to Cline's more rocking numbers, transcending them into glowing pop offerings.

Take "Fancy Girl", the opening track. The melding of vocals sooth you over while Cline, starting the song off on a light note, leads the band into a frolicking, boppy rocker. Or "(She's A) Blue Metal Flake", where Birdy NumNum try making a classic rock sing-along, complete with prominent lead guitar. And then there is "If I Could Be", a warm, vibrant pop song that bounces and shakes with the best of them.

And for anyone that thinks Birdy NumNum is a soft core pop band, try on "The Paraplegic-Homoerotic Episode" or "How Does It Feel?" for size, two brassy pop songs that know the goodness of classic rock and the powers of AM pop.

Birdy NumNum takes you by storm, opening things up with some songs you want to shake and bop too, before settling down, relaxing you, and then taking you for a ride. They're fun, which a rock band should be, but not at the cost of the songs, something so many forget. Rather, they deliver pleasant, enjoyable hooks and carefree moments, all of which will make you smile and go, "More Birdy NumNum anyone?". I'll give it a B+.