Sixer
Beautiful Trash (B.Y.O. Records)
By: Alex Steininger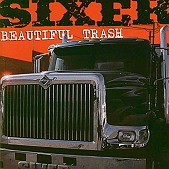 Well-produced punk rock that veers into the pop-punk lane, but manages to stay out, adding a refreshing oi!/street presence to keep things lively and on the up-and-up. The guitars roar as the vocals spit out the words with a slight British snarl, the rhythm section keeping things heavy and hard hitting, delivering punch after punch.

The songs are catchy enough to appeal to pop-punk fans. They have the hooks and pop influence. But, the roaring punk that Sixer creates is more than pop punk. Whenever they get too close to becoming just another pop punk band, they quickly pull away, kick your ass, and reel you in again and again. They keep doing this over and over again until you're sold on their brand of punk rock. I'll give it a B.