Interpol
Interpol (Matador Records)
By: Alex Steininger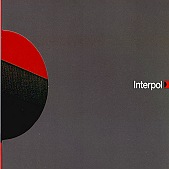 Three songs with their own identity, yet distinctly Interpol, Interpol's latest Matador release, the three-song E.P. simply entitled Interpol, packs all the punch you'll need from an indie rock record.

Opening with the guitar-driven, bouncy, and loud "PDA", Interpol gets things off to a fiery start, waking you up and getting the rock bug in your blood. They then follow with "NYC", a full, guitar orchestrated pop-rock song. And then they end it with "Specialist", a song that starts out light and minimal, and builds into a full-on rocker, not as loud as "PDA", but equally as compelling.

Offering up three different shades of indie rock, Interpol captures the essence of it all with only three songs, all equally dynamic in their own right. I'll give this a B.