Internal/External
Featuring... (K Records)
By: Alex Steininger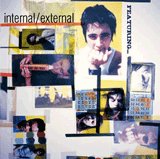 Some Velvet Sidewalk's keyboardist, as well as producer, engineer, and collaborating musician for countless projects, Paul Schuster is a fixture on the Olympia indie scene. His latest creative outlet, a recording project that began in 1997 while Schuster was experimenting with electronic music, grew as he asked friends to add their own touch to the songs. Handing them each one song to play with, he had no idea what to expect. The outcome is Internal/External's FEATURING..., an electronic album that possesses all the charm and magnetism you'd expect from an album featuring a virtual who's who of the Olympia music scene.

Lois' Lois Maffeo brings to life "Hope" with her sexy vocals steaming over an electronic soul groove. Sleater-Kinney's Carrie Brownstein and Some Velvet Sidewalk's Al Larsen tense up the dripping, sonic texture of "The Skin" with Larsen's spoken word-like vocals and Brownstein's splintering guitar. Bikini Kill's Kathleen Hanna shakes things up, while also making them sweet and sunny, on "Stepping Up To The Mic," with her strong-willed, yet stunning vocal performance. Another memorable performance among memorable performances is when Kill Rock Stars' Slim Moon and DJ K.O. get together on "I Knew Them" and send you on a six minute trip through the unreachable portions of your mind and space.

Originality in idea and content, this album will strike a chord with listeners for its extended family of performances as well as its vitality and creative boldness. Here is an album that isn't afraid to have fun, take chances, and let the music take its course. I'll give it an A.