The Get Up Kids
On A Wire (Vagrant Records)
By: Alex Steininger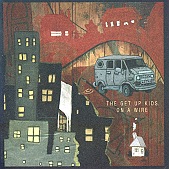 With On A Wire, the latest full-length from The Get Up Kids, they break free of the emo tag, resolving instead to create full, classic pop songs that avoid any and all trends and focus on quality over anything else. A mature growth in their songwriting, the band jumps forward leaps and bounds, delivering a spellbinding gem that may not score them a radio hit but will earn them the respect and admiration of critics and fans alike. Thus ensuring that they will be known as a band that always pushed the envelope and took a chance.

Opening with the acoustic pop of "Overdue", The Get Up Kids' light, rolling melody floats over gently sang lyrics about love and relationships, melting the fluttering drums with the breeze of the acoustic guitar. From there they slide into a beer-soaked, 70's rock-cum-indie-pop number entitled "Stay Gone", not unlike something Ryan Adams would create if he was rocking out and on an indie label.

"Grunge Pig" displays the band's ability to take loose, fun rock 'n' roll out of the garage, polish it up, wrap it around a hook, and still keep the dirty guitars and gutsy feel still in tack.

"Campfire Kansas" is lo-fi all the way, an unpolished, rough acoustic demo-sounding piece that proves a good song is a good song, regardless of quality or production. By keeping this song on the album, the Get Up Kids undeniably prove they write great, memorable songs and can make anything work, regardless of where and how they record it.

The band is not without their rocking, power-pop moments, as heard on "The Worst Idea". Well rounded and catchy as can be, The Get Up Kids expand their sound, without alienating anyone, making a record that plays like a complete piece of work, working together and off of each other. I'll give this an A.