The Get Up Kids
Something to Write Home About (Vagrant Records)
By: Alex Steininger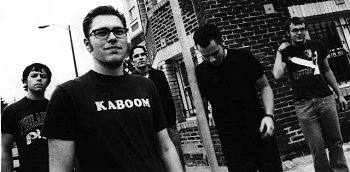 Punchy power-emo with a huge dose of punk and pop, The Get Up Kids make every other "emo" band seem bland in comparison. They shock you with their stunning melodies, hard-hitting beats, and clean-cut vocals; not to mention their solid lyrics. On their latest, SOMETHING TO WRITE HOME ABOUT, the band serves up a well-produced, solid record sure to turn some heads.

"Holiday" isn't your little sister's emo number. Rather, it lets the punches fly as it leaps forward with a pounding rhythm section, soaring guitars, and a lethal dose of pop that rips right through you with tremendous force and makes sure you're locked into it. The verses will make your knees shake with its volume while the chorus will make your legs fall out from underneath you with a slick hook placed in the right spot.

"Valentine" is more in the key of emo. Soft and delicate, it paces along with a steady beat that wears its heart on its sleeve. The song doesn't have the drive or the kick that "Holiday" does, but its relaxed, confident feel is still enjoyable to listen to.

"Out of Reach" is a soft pop-rock number that crosses over into the emo genre with sorrowful vocals that can't seem to let go. The bouncy rhythm section gets your toes tapping; the guitar gently slides throughout the song keeping you relaxed; and, together, the song keeps you interested with its sad beats and emotional feel.

"10 Minutes," on the other hand, is a straight-ahead power-pop number that squeezes some punk into the mix. The guitar screeches, the rhythm section hits the listener with a knockout punch, and the vocals go from poppy to a punk snarl; everything falls into place and buzzes in your head.

"Close To Home" finds the band diving straight into some pop-punk; but, the emo also makes an appearance, keeping them from going too far into the pop or punk genres. Energetic and smooth, as well as emotional and heartfelt, the band keeps you listening with a driving rhythm section that is able to keep the song from slumping too far into the emo realm.

For a band that often receives the emo tag, they can sure amp it up, rock out, and really throw some clean punches that will knock you on your ass. Sure, they've got their emo side, and it sometimes gets redundant and seems endless; but, they always manage to jump back up with some of the most spirited rock you're likely to hear, so it cancels all the band out. I'll give this a B+.