Reverend Horton Heat
Lucky 7 (Artemis Records)
By: Alex Steininger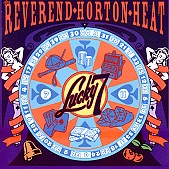 Punk-inspired rock-a-billy fueled by several stiff drinks and a lot of late nights, Reverend Horton Heat's style of classic American rock has more to do with loud guitars and fierce rhythms than it does roots.

But that doesn't matter, as one listen to Lucky 7 attests to. The engine in "Like a Rocket" purrs. "Galaxy 500" screams along with intensity, the drummer burning rubber, the bassist hot tailing it, too. And the Reverend's guitar setting fire to the song with plenty of burning lead riffs, while his voice comes barreling at you.

"Suicide Doors" drops the punk enough to give you some more roots-centered rock-a-billy to dance to. That is, until the chorus comes in and the punk takes over.

Don't fret, because the twang of "Show Pony", an instrumental, replaces the punk, as the band plays a straight-ahead rock-a-billy number for you.

As steamy, if not more, than their last few albums, Lucky 7 finds the band re-energized, playing their version of rock-a-billy as wicked as ever, with the passion that seemed to have been dwindling in the last two efforts in full force here. I'll give it an A-.