Reverend Horton Heat
Spend A Night in the Box (Time Bomb Recordings)
By: Alex Steininger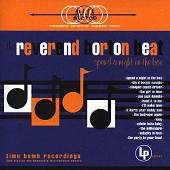 Reverend Horton Heat deserves credit for keeping rock-a-billy alive. Though there are others out there touring and working the country, helping newcomers discover the music they love so much, if it wasn't for Reverend Horton Heat, the rest of the bands may have been resigned to local clubs. But, with six albums under his belt, and countless tours, Reverend Horton Heat stands at the forefront of the modern rock-a-billy sound; greasy, searing, and flammable, the Reverend makes you want to drink, dance, cry, and have fun - often in the same song.

The Interscope released Space Heater was a departure for the Reverend, leaving a lot of die hard fans in the cold as the Reverend tried to play his hand and come out with a commercial hit. When that didn't pan out, Interscope dropped the band. But, with legions of fans worldwide, and more gospel to spread via his music, Jim Heath (aka the Reverend) and company soon inked a deal with Time Bomb Recordings and went back to their roots. Slick, greasy, tight, and roaring rock-a-billy with plenty of punk, swing, country, and blues to boot, Spend A Night in the Box finds the Reverend at the top of his game.

Rock 'n' roll never sounded as good as it does on the title track. Heath's trademark punk growl-gone-soul crooning wins you over immediately, while the searing guitar rises above all and shines bright as the morning sun. The punchy slap of the bass thumps, pumping the music full of adrenaline, all while the knuckle-packing slam of the drums drive a pulsating beat into your blood stream.

On "Big D Boogie Woogie" the Reverend swaggers through some hot-roddin' rock-a-billy, fueled by a boogie woogie push and heavily distorted punk-a-billy guitars. "The Girl In Blue" pumps a classic swing beat full of punk rock energy and ferocious rock-a-billy dance grooves, while "Sue Jack Daniels" roars by with a stuttering punk rock rhythm section and a country twang to it. "I'll Make Love," a perfect example of the danceable, yet drenched-in-sweat power of the rock-a-billy the Reverend is capable of, shows you how to hook someone with stinging guitars and a rock-solid rhythm section in under two and a half minutes. And the aptly titled "King" is dark and haunting. But, that doesn't matter, because the rhythm section is just too infectious, and Heath's guitar too hot, not to want to get close to find out what it's all about.

"Whole Lotta Baby" delivers smoky cocktail-country, "The Millionaire" delivers a one-line punch ("Now you're the millionaire"), "Unlucky In Love" is Vaudeville-a-billy, and album closer "The Party In Your Head" fuses punk-blues guitars with more swaggering rhythms. Steamy, juicy, and on fire for fourteen straight tracks, the Reverend takes his sermon seriously, and just won't give up until the listener has converted to his side. And, after one listen to this alum, you'll be converted. I'll give it an A.