764-Hero
Nobody Knows This Is Everywhere (Tiger Style Records)
By: Alex Steininger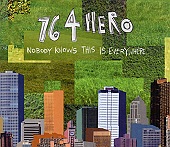 Jarring indie rock with a bit more rock to it, but still the obligatory soft, lo-fi, oft-wanky guitars that set the stage before they unleash a powerful rhythm section that is propelled by guitars and some sing-screams that give the music a much needed shake to wake it up.

764-Hero is a great band, but they do they same thing over and over again - very well, I might add. Fans will run to this album and dig it, and why shouldn't they? It's well written, energetic, and has some mood-setting elements to it as well. The thing that doesn't grab me is that the music does the same thing song after song, not really trying to get your attention. They just stagnate, wailing and flailing about. I'll give it a C+.