7 Seconds
Scream Real Loud (Side One Dummy)
By: Alex Steininger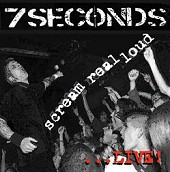 There is a reason 7 Seconds have lasted as long as they have, and still manage to put out records on some of the top punk indie's like Side On Dummy: they're good. Scream Real Loud, the band's live album, is a testament to their ability to win over the crowd with roaring hardcore punk that still manages to get you singing and bouncing along.

Never a dull moment, the band charges through track after track, including "Not Just Boy's Fun," "Ghost," "Here's Your Warning," "Committed for Life," "Young Til I Die," and "Red & Black," just to name a few of the twenty-six tracks that come alive on Scream Real Loud. I'll give it an A-.