INTERVIEW: Testify
An Interview with Myk Jung of TESTIFY
By: Sonya Brown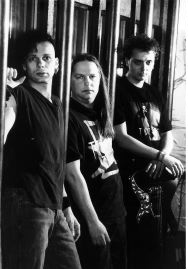 Triviality Beyond Acceptance hits the U.S. streets this spring, reflecting the talents of Myk Jung (voice, programming); Moses W. (guitars, programming); Mathias Black (programming), and Ulf H. (guitars), who rise from the remains of "The Fair Sex", Essen, Germany.

The fifth release from Testify, Triviality Beyond Acceptance, brings forth eleven aggressive, guitar-driven, aggro-industrial tracks featuring vocals by Myk Jung; who delivers these thematic lyrics in English, rather than his native German tongue.

Listen in as Testify vocalist, Myk Jung, addresses the merits and promotion supporting Triviality Beyond Acceptance...

Sonya: Please tell us how Triviality Beyond Acceptance excels beyond previous releases, such as Crack The Mind. What are you doing differently with this album?

Myk: Almost every time we produce a new album we try to eliminate the failures of the album before. These failure seem to multiply the longer the recording session is past. "Crack The Mind" appeared to be torn between the Rock-character of the five new titles and the electronic sides of the four remixes. Now we had in mind to create something which should be round and of one mind. I think we managed it - in spite of the numerous different ingrediences that are on the album.

Sonya: Triviality Beyond Acceptance seems to carry out a theme, does this theme carry forward throughout your albums, or is there something specific on this album you would like to convey to our readers?

Myk: Hhmmm... "Triviality Beyond Acceptance" is not a concept-album carrying out one theme exclusively. Of course, it would be possible to connect all the lyrics to one great story-plot, for they are somehow akin to each other - telling strange tales of loneliness, darkness, coldness, wrathfulness, unfulfilled yearning, disappointments, the pain of sexual urge-hurt, the being lost in transience - Haar, all fundamental themes - presented from their dark side. Some of them could be presented from a more bright side; but that would be the job for other bands, not Testify. The White Skinned Heroine as well as The Fragile Puppet - it will seem they both are somewhat entangled in a world of darkness.

Sonya: The track "Karl Found Out" speaks to me like a "mantra" for Testify itself. How does the underlying significance of the title tie in with the vocalized samples?

Myk: You see: Although the Testifylers are sad and dark and whatsoever, they are not able to keep a kind of slapstick-humour-aspect away from their constructions, no matter how they try. And this collage-title indeed reveals a bit of that slapstick-aspect. Karl (that is Karl Bartos indeed whose voice is to be heard) has found a definition of the word "testify" in his special dictionary; and as third and last definition he reads: "Testify. European project. A poor mimicry of Ministry. Cheep and trivial beyond acceptance." As you see: with this particle we try to overcome the endless comparisons with one well-known Industrial godfather-band. Har.

Sonya: What difficulties do you encounter when translating from German to English?

Myk: There is no translation-process in the writing of lyrics. They are written in English; even the thoughts arise somehow in English. Sometimes there are difficulties: when I ask myself: H--? Might that expression be wrong? Is it wrongly pronunciated or something? But over the years I somehow grew careless. What's the matter? Don't I have the German bonus? Especially in the US I think the listeners don't mind it at all if it becomes clear that the singer is not American language-native.

Sonya: Where will Triviality Beyond Acceptance find distribution in the United States?

Myk: In these matters you ought to ask our label. And so - why not? I summon now Paul! Why not writing in here - giving information?!! The voice of the label-chief being brought into the interview?!! Now?!

(Paul Abramson, Label Manager, Van Richter Records - [email protected] - states, "All chains and indi stores across the U.S." Check out: http://www.vanrichter.net/ and look under "brick and mortar")

Sonya: In which US cities do you plan to promote live performances of your music?

Myk: Ahh, that is a question! In all the plans ever being planned the plans of numerous live-shows not really became reality. Testify never experienced a real break-thru of carrier, and so it simply will seem to be too expensive to tour in the US, coming from Germany. But why - not? At this point I may call upon all readers - to give us support and advice in matters of that problem and how it may get solved. yes.

Sonya: I read recently, that prior to a performance you paint your bodies with soot. When did you begin this ritual? Explain how the importance continues to survive into your present-day performances.

Myk: That was something we invented in the 1996/97 - season I think. And whereas other musicians feel the need to change their outward appearance all the time, we do not feel that urge. We feel the urge to grap the soot again - to slip into our real identities again. black and dirty. Sorry.

Sonya: If Testify had an "antichrist" in the form of another band, how would you describe their music? Who or what would you consider to be the "anti-Testify"?

Myk: I will not give away any names by now. But fundamentally the opposite of Testify's philosophy would be something that celebrates superficial fun-good-time-love means happiness-rubbish, the kind of self-satisfied, self-complacently presented, unreflected pop-party-dance-shit proclaiming that everyone is free to feel lucky - and so on and so on. This statement now probably makes us appear as non-humoured crotchety guys rejoicing in bitterness. Yeah! And that's what we are.

Sonya: Outside of recording and performing... what consumes your time?

Myk: Being in a bad, constantly rising nervous mood - is consuming my time more and more; very regrettable. Hatred against the world mingled with hatred against myself... Arh! It's no fun being a Testifyler. Sometimes German beer calms down the big dissatisfaction. But alcohol is no solution. But as the Toten Hosen say: No alcohol is no real solution as well. Thru-out the last year, on the other hand, I wrote a novel that was now published in Germany. "Der Herr der Ohrringe" which is: "The Lord Of The Earrings" - an ill-humoured persiflage of a famous Fantasy-Trilogy.

Sonya: Do band members interact personally, or pursue completely separate interests?

Myk: That depends on the phases in their lives. Sometimes they walk their own way - being entangled in different bands and projects, having their own personal favorite musical styles. Mathias Black (chief-inspector of sound) enjoys EBM, Kullf (guitar-player) is delighted by real hand-made Rock-stuff; Myk walks the dark paths of Noise Industrial. Sometimes we meet and share our common interest in German beer - then finding our interest in Industrial Metal again.

Sonya: On the track "Fragile Puppet", the voice of the child... who is Allegra? What contributions have others made to this album?

Myk: Allegra is the Princess Of The Dawn, the golden haired fairy-tale-being that is ever and anon floating thru my life - in fact my seven-year-old daughter. The one with the Big Laughter. Some of her funny statements I recorded and made samples of them - on "Triviality Beyond Acceptance" there appear samples I made when she was four or five. More contributions come from Karl Bartos (the voice I mentioned), Juergen Dahmen as guest-guitar-player; some naturally played drum-patterns were delivered by Mirko Kirch; and there is still the team of craft and glee: Bull (bass) and Sven (drums).

Sonya: What else does Testify plan to accomplish by 2003? Beyond?

Myk: Testify plan to get free of the gnawing restlessness and to live gladly Under The Cold Moon. (You should pay attention to that special title! Track 11. Our darkest Black Jewel. I still can't comprehend it. Pictures from The Dark Shore Beyond The Schemes Of Time - or something like that).

Sonya: How can readers learn more about Testify?