...And You Will Know Us By The Trail of Dead
Source Tags & Codes (Interscope Records)
By: Alex Steininger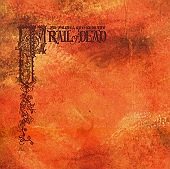 One of the cleverest names in the music business, ...And You Will Know Us By The Trail of Dead is a fountain of creativity. Taking melodic noise and rock music to the next level, blending the two to create nothing short of a spectacle, a sound that must be experienced live, but can still be appreciated on record.

Source Tags & Codes, released on Interscope Records, doesn't fall prey to the major label production scheme that normally ruins most crazed rock bands like Trail of Dead. Tight production pulls the songs together and helps them flow. But from there on out it's all the band, wailing guitars, thunderous drums, screaming vocals that help carry the melody, and a fierce bite that make Trail of Dead one of the most promising bands of 2002, a band that could restore modern rock radio with some taste.

Trail of Dead are not savors of rock. They're just fans of rock who want to help it out of rut, delivering a sound that will leave many in awe of their heavy, hard hitting, though accessible brand of rock. I'll give this an A-.