Terrorists
Forces 1977-1982 (ROIR USA)
By: Alex Steininger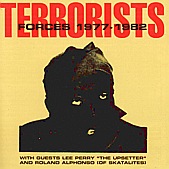 Before two-tone hit and put ska back on the charts, New York's Terrorists (featuring Lee "Scratch" Perry and guest appearances by The Skatalites' Roland Alphonso) were playing offbeat ska, fusing it with reggae, punk, and dub. Little did they know then that they'd be influencing musicians and helping change the face of ska forever.

Including material spanning their short-lived five-year existence, ROIR delivers a captivating, archival piece that is a must for any fans of ska or reggae. Smoky, groove-aplenty, highly danceable island roots music that will make you shut up and dance, you can hear as the Terrorists effortlessly, but passionately help mold a ska sub-genre that would not only change ska, but music forever. I'll give it an A.