Sean Na Na
My Majesty (Frenchkiss Records)
By: Alex Steininger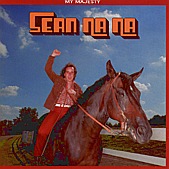 For those of you that like pounding, raw rock, but don't like screaming or any fierce guitars or overly aggressive beats in your face, there is Sean Na Na. He knows how to rock out and has managed to decorate each of his songs with shining pop melodies, creating a loose, indie power-pop sound that bounces around like a pop song, but shakes you around like rock should.

Take "Double Date" for instance. The song fits in perfectly in both the power-pop and indie rock worlds, something you could hear on Not Lame or Kill Rock Stars. The lyrics are about as genuine and universal as it gets, taking the listener by the ear so he/she can say, "Hey, I've been there".

"Give Me A B-Side" is chaotic, three-chord bash 'n' pop ditty that feels like classic garage rock with a pop songsmith at the helm.

And then there is Sean Na Na's other side, as displayed on "Third Life," a quick, twinkling pop song that is both harmonious and melodically rich.

Whatever your vice in the world of rock, Sean Na Na touches upon it, playing it with flare and style, hooking you on either his lyrics or melodies, and taking you for a ride from there. This is a good time record that will always stay with it. I'll give it an A.