Ides of Space
There Are No New Clouds (Better Looking Records)
By: Alex Steininger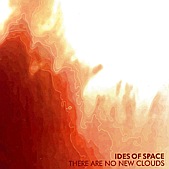 Australia's Ides of Space make a splashing debut in the states with There Are No New Clouds, a heavy, swirling rock record loosely based around a pop structure and built up from there. From the smoky vocals to the stormy rhythm section, Ides of Space rock with ease and then turn around and deliver a slow, simmering number without losing your attention.

Opening with "This Side of the Screen," Ides of Space mix heavy, distorted guitars with a slow, methodical melody of the chorus to the light, dreamy verses, while "Keep Writing" captivates you with the sonic-ness of the guitars and rhythm section building up behind the pretty, serene vocals. Then there is "I Promise Not To Notice If You Promise To Pretend," a straight-ahead, hook-laden rock number that bounces and bops, all while snagging you on sharp guitars and plenty of rough, raw beats.

Produced by Wayne Connolly, the highly sought indie rock producer in Australia (known for his work with You Am I, among others), Connolly takes a great band, puts them into the studio, and hits gold. There Are No New Clouds is an exceptionally tight, well produced album that captures you with its rock side, but reels you in with its sensitive layers. I'll give it an A.