Clinic
Walking With Thee (Domino Records)
By: Alex Steininger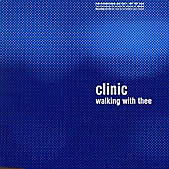 Liverpool's fab-four pop quartet (and I don't mean The Beatles), Clinic deliver their strongest album yet, Walking With Thee, an awkward, quirky pop concoction filled with elaborate layers of melody and style. It is not afraid to shine, propelling itself to monstrous rock proportions when needed, and sinking down to a whisper during other times.

"The Equaliser" is a mid-tempo pop song with elaborate instrumentation, from the clatter of the percussion, to the chime of the keyboards, through the breeze of guitars, all brought to the surface by the distant vocals.

"Pet Eunoch" is a full-on blast of rock 'n' roll, from the buzzing guitars to the fast shouts of the vocals, this is exhilarating pop music sped up, ran through the grinder, and pumped up for maximum impact.

Then there is "Come Into Our Room", a soft, bouncy pop song, lead by the presence of the keyboard, propelled by the constant beat of drums that echoes in the background.

Clinic's Walking With Thee is a true testament of pop music, a brilliant, colorful array of sounds and style, an album you can cuddle up with or blast loud and proud on your stereo. I'll give it an A+.