INTERVIEW: Shadow Reichenstein
Psychobilly Surf-Goth
By: Sonya Brown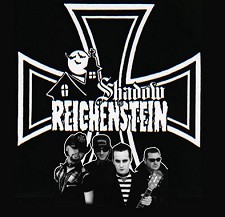 When I first heard Shadow Reichenstein's self-titled cd - I was an instant "undying" fan.

Described loosely as "psychobilly surf-goth", I found Shadow Reichenstein creepy and campy... and altogether kookie.

With tracks like "Dracula Built My Hot Rod" and "Texas Tumbleweed Terror", it was like some mad scientist built this wicked creature just for me! Take a dash of The Twilight Zone, a sprinkle of Adam Ant, some Stephen King & Ray Bradbury, then toss with some zombiefied Dick Dale surf-goth guitar & some spooooky sounds, let it all sizzle and simmer while watching Munster re-runs... and then you might be ready to take a ride in Shadow's "Black Car" out to do some real "Cemetery Surfin'".

Ahh.. but the creep show has just begun,"My Dear Deceased"! Where else can you hear the vampire version of The Animal's "House of The Rising Sun" (renamed "Fear of the Rising Sun")? Well, it's all right here... just waiting for you (much like "Spot" under the staircase!)

OK, Shadow - I'll "be your victim"... please tell me (and the readers of "In Music We Trust") your horror story.

Sonya: Shadow, your music seems to encapsulate early tv pop culture and, from what I gather, many aspects of 60's through early 80's music. Please tell us a bit about Shadow Reichenstein's broad influences...

Shadow: I was influenced by everything from early T.V. shows like the Munsters to the subtle creepy elements in bands like the Doors and early B 52's to the shock rock of bands like the Plasmatics.

Sonya: How do you properly pronounce "Reichenstein"?

Shadow: Rike-in-stine.

Sonya: Please tell us a bit about the rest of Shadow Reichenstein...

Shadow: Jimbo Nostrathomas - lead guitar and predictions. Robert "Chili" Galvano - bass guitar and secret Italian recipes. Mark "Bake" Baker - Drums and insults.

Sonya: Your website (www.shadowreichenstein.com) shows a "then" and "now" photo of the band. What are the significant changes in Shadow Reichenstein's evolution here?

Shadow: The only changes are costumes and the addition of Mark Baker into the lineup.

Sonya: Please describe "psychobilly" for our readers!

Shadow: Although a lot of people who enjoy psychobilly also enjoy my music, I wouldn't feel it was quite accurate to describe Shadow Reichenstein as psychobilly. As for describing psychobilly itself let me just say "Radioactive Kid" by the Meteors.

Sonya: Please tell us about your stage show... (I'm curious as to if you use any sort of "props"!)

Shadow: No props as of yet but we recently successfully introduced pyro. As for our live show, if you like in your face Rock-n-Roll perfectly intertwined with the truest and purest sound of classic horror and I do mean the truest and purest sound of classic horror you will be an undying dedicated Shadow Reichenstein fan.

Sonya: What is the "music scene" like in Dallas Texas for Shadow Reichenstein?

Shadow: Carving out an audience in Dallas has definitely been more work than pleasure but it has definitely begun to pay off as far as enthusiasm and the size of our audience.

Sonya: Describe the diversity of fans that attend your live shows?

Shadow: Everything from the Rockabilly/Psychobilly crowd to the oldschool Deathrock/Punkrock people to the younger kids into stuff like Rob Zombie.

Sonya: Your bio mentions you began your recording project in the early 90's on an 8-track in the attic of your mothers house... please tell us a bit about the gear you used to create your self-titled cd, released in 2001 (how have times changed?)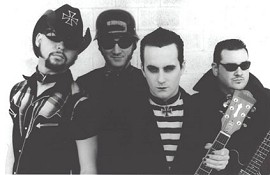 Shadow: We recorded in a traditional studio here in the Dallas area. Most of the songs on the CD are very old. I would say some are approaching the mark of even 6 to 7 years now. As for change, the songs on the CD that are more representative of where we are headed would be songs like "Be My Victim", "Black Car" and "Dracula Built My Hotrod".
Sonya: You cd contains a "cover" of the Animals' classic "House of the Rising Sun" - aptly renamed "Fear of the Rising Sun" - I want to know all about this song! Please give us details about the lyrics and the imagination behind this cover track (and what about copyright issues)?!
Shadow: I have always liked this song even from the time I was a little kid riding shotgun in the family station wagon with my mother. I always thought it sounded creepy. I just changed the lyrics to make it a little more suitable as a cover for Shadow Reichenstein. It is probably the only cover song I could ever imagine doing. I hope the concept and humor is obvious. As for copyrights, I guess I will wait 'till a lawsuit arrives.
Sonya: "Cemetery Surfin" is one of my favorite tracks! I love the "surf-goth" guitar. How do you get that "slide sound" out of the guitar? Is this more than one guitar?
Shadow: I don't play slide if that's what you mean by that "slide sound" but there are definitely multiple guitar tracks on the song "Cemetery Surfin".
Sonya: "Carnival Macabre" reminds me of Adam Ant's "Desperate but not Serious" mixed with Stephen King's "It" - or Ray Bradbury's "Something Wicked This Way Comes". What is the inspiration behind this particular track?
Shadow: The music to "Carnival Macabre" was directly inspired by the song "Desperate but not Serious". The lyrics are about a famous serial killer. Any freaks out there interested in trying their hand at serial killer trivia can find the lyrics at www.shadowreichenstein.com.
Sonya: The track "Dracula Built My Hot Rod" ... Ode to the Munster Mobile???
Shadow: Yes, it is a very Munsters-esque song.
Sonya: What are the future tour plans for Shadow Reichenstein?
Shadow: We are currently shopping the CD for labels with the specific intention of getting out on the road.
Sonya: Are there any comments you wish to make????
Shadow: Rock-n-Roll from the Dark Side...