What's The World That Could Happen?
Special Editioin DVD [PG-13] (MGM)
By: Randy Harward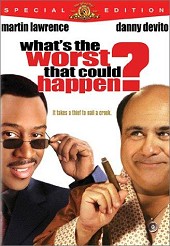 The best thing about this film is it's a revenge film as opposed to a film where some guy gets himself into pickle after pickle, much like that idiot Lucille Ball did on her overrated shows. Instead, What's The Worst That Could Happen? finds a thief (Martin Lawrence) attempting to burglarize the mansion of a ruthless billionaire (Danny DeVito). He gets caught and, in the process, robbed of a ring given to him by his new anthropologist girlfriend, who is inexplicably accepting of her new beau's occupation. Lawrence does his typical shtick, while DeVito does a billionaire version of Louie from "Taxi." John Leguizamo and Bernie Mac, who play Lawrence's friend and uncle (both of whom also play thieves), respectively, are underused.

Special features include two commentaries (seemingly by everyone except Lawrence), deleted scenes, subtitles, and a music video from Erick Sermon.