Robyn Hitchcock and the Egyptians
Gotta Let This Hen Out! (Visionary/MVD)
By: Randy Harward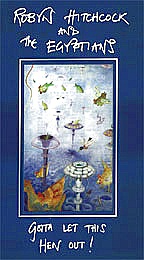 A 1985 performance with interspersed wild video clips ("Listening to the Higsons," "Heaven," and "Surgery") from Hitchcock is a treasure for fans, but beyond that, it's a once-is-enough curiosity. The set list covers a large portion of Hitchcock's career up to '85.

Special features include a comprehensive discography (up to 2001) and bio.