Moulin Rouge
DVD (Fox Home Video)
By: Randy Harward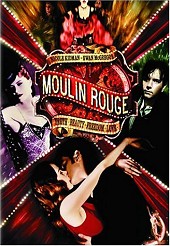 Despite being a musical, Moulin Rouge gets big points from me for being one of the coolest musicals to come around in a long time. Nicole Kidman's performance is devastating, and the supporting cast (specifically Ewan McGregor and John Leguizamo) give equally startling performances. Still, it loses its otherworldly effect going from big to small screens, thus viewing late at night in a darkened room is recommended.

The special features are sundry on this two-disc set, including DTS Surround Sound, Widescreen, Dolby, theatrical trailers, production commentary by director Baz Luhrmann, production designer Catherine Martin, and cinematographer Don McAlpine, writing commentary by writers Baz Luhrmann and Craig Pearce, 8 behind-the-scenes branches, "The Making of Moulin Rouge" HBO special, 5 featurettes on Nicole Kidman, Ewan McGregor, John Leguizamo, Jim Broadbent, and Richard Roxburgh, interview with writers Baz Luhrmann and Craig Pearce; early treatment; old storyline and script comparisons, The Cutting Room: interview with Baz Luhrmann and editor Jill Bilcock; unseen footage of abandoned edits ("Come What May," "Twice Across the Sky," "Eidler's Rap," "Outside It May Be Raining," "Green Fairy Previsualisation"); director's mock previsualisations, The Dance: A Word with Baz, Tango (extended & multicam), Hindi (extended), Can Can (extended & multicam), Coup d'Etat (extended & multicam), The Music: The Musical Journey, interview with Fatboy Slim, The "Lady Marmalade" Phenomenon, "Come What May," The Design: Interview with production designer and co-costume designer Catherine Martin, set design, interview with co-costume designer Angus Strathe, costume design, graphic design, smoke and mirrors, Marketing: International sizzle reel, photo gallery, the little red book, poster gallery, trailers, music promo spot, extended scenes & 4 re-cut dance sequences, widescreen anamorphic format.