Joe Cocker in Concert
Ohne Filter (Musik Pur/MVD)
By: Randy Harward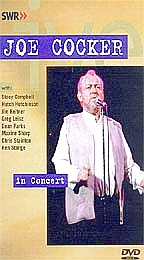 Joe Cocker is a pleasure to listen to, but a pain to watch. When I was a kid, I always thought there was something wrong with him, the way he contorts during a performance. But it all comes down to soul. He's feeling the music...perhaps a bit too much...and that makes up for what he lacks aesthetically. Well, it should, anyway. As for me, I'll take a Joe Cocker CD ten times from start to finish over ten minutes of watching him live. Call me a jackass, but it's just plain creepy.

As for rating this DVD on its actual merits, it's just fine. If you can get past Cocker's contortions, the sound is great (PCM stereo or Dolby 5.1) and his band is awesome (specifcially, guitarist Greg Leisz and drummer Jim Keltner). The other extras (an interview with the producer and a technical section called Sound Tuning, both of which I watched a minute of and skipped; artist biography) are extraneous.