bd7 Jeepers Creepers
DVD [Rated R] (MGM)
By: Randy Harward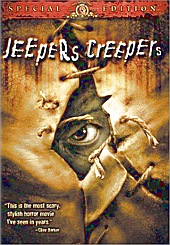 This film is like a drunk frat boy: it blows its wad way too early. Give it points for one of the strongest starts of any horror film since Scream, but trust me: it just doesn't deliver after the first 20 or 30 minutes. And that's sad, because there was so much promise. That first part is worth seeing, however, so you might want to rent it. Just know that the last hour is better spent contemplating the existence of non-alcoholic beer. SPOILER ALERT: is there any imagination left among horror directors? Why do films like Scream have to be the best horror films in the last ten years? The monster in Jeepers Creepers is just weak. Who needs another f**kin' gargoyle, much less one with an unoriginal name like "The Creeper?"

Special features include deleted scenes, alternate opening and ending, commentary, six "making of" featurettes, a photo gallery, trailers, and "more." Zzzz--to all.