Blow
DVD [rated R] (New Line)
By: Randy Harward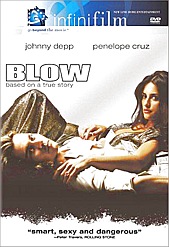 Ted Demme's celluloid dramatization of drug dealer George Jung's life is engaging and fun, but a total bummer, if you, like Jung, adopt a money-makes-it-okay rationalization attitude. Of course, that's likely the intended effect of the film, to suck you in, take you up and let you down, but a guy can't help but hope for a happy ending...or at least one where he gets blown away instead of tucked away.

Since this is one of New Line's super-duper Infinifilm editions, the special features are superabundant. The interviews with Jung are enlightening, but the Fact Track (in which little snippets of trivia pop up as subtitles) isn't recommended if you're seeing the film for the first time, as it's just too hard to keep up with the trivia and the plot. The commentary with Jung and Demme is also informative, but the film is already two hours long and my opinion is, they better bring something unique (see the commentaries on Criterion Co.'s version of This Is Spinal Tap and Troma's Cannibal: the Musical) to the table for me to go through the film again just to hear them yak. Jung's comments are worth hearing.

Aside from that, the Nikka Costa video for "Push and Pull" sucks (too much face, not enough booty...the song is good, though), the production diary is really only of interest to filmmakers and film dorks, the deleted scenes are okay (but doesn't it usually seem like they were cut for a good reason?), and the trailers and filmographies are expected and typical. Two featurettes on cocaine's impact on Colombia and addiction are interesting, at least.