Mark Mulcahy
Smilesunset (Mezzotint)
By: Alex Steininger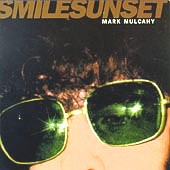 Radiohead's Tom Yorke sites Mark Mulcahy as one of his main influences. One listen to Smilesunset and there is no doubt that Yorke has drawn many similarities to Mulcahy. A beautiful songs crafted around subtle melodies and sweet, breezy hooks, Mulcahy's sincere, bright pop songs are relaxed and timid enough to make you want to fall asleep to them every night, but lyrically deep enough to make you want to sit down, with no distractions, absorbing all you can.

This is a brilliant, sophisticated pop record able to stand on its own without Yorke's recommendation. Superior to the majority of pop bands today, Mulcahy proves to be a talent to keep an eye on. I'll give this an A+.