The New Pornographers
Mass Romantic (Mint Records)
By: Alex Steininger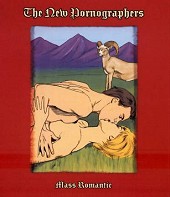 One of the hottest pop albums of the year, country diva Neko Case joins some friends and bashes out the crunchy pop on Mass Romantic, an album equal parts sunshine and darkness.

A sweet, joyous pop album with all the hooks, it retains enough cynicism and rough-edged lyrics to keep it from being labeled happy-go-lucky and void of any substance. Rather, it is filled to the brim with stinging substance, delivering catchy melodies alongside smart, witty lyrics.

The entire album, from start to finish, is an exercise in pop smarts, driven melodies, and words worthy paying attention to.

"Mystery Hours" fills the air with muscular guitars, buzzing keyboards, and plenty of vocal action. Front man Carl Newman's voice screams while Case's occasional backing vocals add a soothing, delicate touch.

That is not the case at all, though, on album opener "Mass Romantic," where Case's vocals lead the way with a stern, forceful vengeance, winning out for attention over the not-too-light, not-too-heavy pop stewing in the background.

"Letter From An Occupant" is another track that finds Case on lead vocals. The organ beeps while the rest of the band fires away, shooting out highly addictive, punchy chords and equally potent rhythms. Case's strong-winded, yet sweetly perfect vocals hook you with part sugar, part roughness. Quite the catchy ditty, you won't walk away without having it remain in your head for days on end.

Not only is this one of the best pop albums to come out this year (well, technically in 2000), this is one of the best pop albums to come out in the past ten years. A well-written, well-crafted dose of melody and kick, this is the kind of pop music that rockers and softy-pop fans alike will talk about for years to come. I'll give it an A+.