INTERVIEW: Blood of Roses
Mythology, Philosphy, and Religion with Blood of Roses (Electronic Service Unit 16)
By: Sonya Brown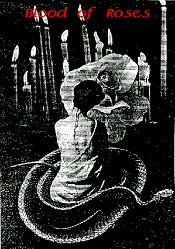 Sangue, the much too short EP by Blood of Roses, draws you into shadowy candlelight with trenchant vocals that linger long after this EP ends... culminating in a familiarity of sorts. You feel as if you have heard these songs "somewhere before".

Drawing inspiration from artists such as Kate Bush, Bjork & Dead Can Dance, Blood of Roses delves into mythology, philosphy and religion to create the 4 tracks of Sangue.

Presently recording their upcoming full length CD, Iconic, Blood of Roses takes time to speak to In Music We Trust.

Sonya: Please tell our readers... who is Blood of Roses?!

BofR: Bird AKA Roberta Lengua: vocals, lyrics, art and Jaemes Henriques: music

Sonya: How do you most like to describe your music?

BofR: Difficult to describe our music. We flirt with a lot of ideas and genres, images; this link might help to give your reader an glimpse of who we are: www.esunit16.com/goth2bor.htm.

Sonya: Where do you find inspiration for your music?

BofR: We think *too* much (which is why it takes so long to produce anything...) and delve into mythology, philosophy, relationships, religion, psychology (and other-ologies) to find archetypal source material. We're interested in challenging the listener and stretching what is accepted as valid for musical expression. We draw from artists such as Robert Fripp, Kate Bush (new album in the works!!), Bjork, Peter Gabriel, Dead Can Dance.

Sonya: According to your website (http://209.237.135.186/bloodofr.htm); Blood of Roses has written a film soundtrack. What can you tell us about this film, the soundtrack, and where/when it will premier...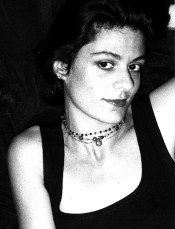 BofR: The film is "The Nothing Generation" AKA "I Want To Be A Vampire" in Europe. It was released in Germany last year--unfortunately we couldn't go to the premier, but the reviews (in German) I'm told are good.
Sonya: What other film projects are in the works?
BofR: Jaemes has done a few films and theatre (including directing the score for a stage production of The Rocky Horror Show), but we've nothing pending.
Sonya: I am presently enjoying your EP, Sangue; however EPs are always too short! When might we expect to see a full length CD... and what can you tell us about the music that will appear on a full length cd?
BofR: Our next (and full-length!) CD will be called "Iconic" featuring some of the music from the above mentioned film, as well as experimentations with Mid-Eastern music, trance, and sampling/techno. Themes explore the intersection of archetypal/mythological and ordinary life: betrayal, relations, change, confinement.
Sonya: Does Blood of Roses tour?
BofR: No. Someday maybe.
Sonya: What other artists does Blood of Roses collaborate with?
BofR: Dr. Donald Elwell, dramatist/poet.
Sonya: Who would you most like to work with in the future?
BofR: Laurie Anderson, David Van Teghem, The Kronos String Quartet, Moby.
Sonya: Where might readers gain access to your music?
BofR: CDBaby.com, Amazon.com (US), Peoplesound.com (UK). MP3.com, others.
Sonya: What is the origin of the name Blood of Roses?
BofR: Bird remembers loving the song "Blood and Roses" by the Smithereens, and mistakenly thought the lyrics were "blood of roses" an image which remained with her. In naming the band, she came up with it as a reference to the feminine cycle.
Sonya: What are the religious icons depicted in the cover artwork of Sangue? What do these icons represent to Blood of Roses?
BofR: The images chosen for the cover of "Sangue" were meant to be a juxtaposition of mythological and physical realities. Music and its creation in some ways is a religious experience, a way to connect us to creation as a whole.
Sonya: What does the word sangue represent to Blood of Roses?
BofR: Sangue is "blood" in Italian. As in the title "Blood Of Roses," it refers to all the representations that blood symbolizes: life, life force, flow, power, illness, death.
Sonya: Please tell us about ESUNIT16 Studios (http://www.esunit16.com)...
BofR: ESU16 (reference anyone? The new button-bar is a hint) exists primarily to promote unusual music and spoken word. The studio itself is a grandiose home-studio with both analog and digital recording facilities. We don't hire out much, spending our energies on Blood of Roses and a few other projects.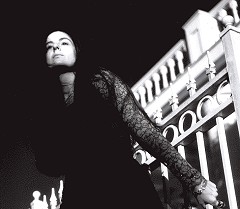 Sonya: What can you tell readers about Queens of the Dammed (mentioned at your website)?
BofR: Queens of the Damned is a webring for Gothic styled female denizens of the night.
Sonya: What type is gear is used by Blood of Roses?
BofR: Much gear: old synths (Casio 101s, DX7, Korgs 800s), new synths (Roland JV, Kawai K1), samplers (Casio FZ, Akai S5000), digital mixing and recording (computers, HD recorders), digital horns, F/X, and guitars.
Sonya: What other interests do the members of Blood of Roses have?
BofR: Bird is an artist and graphic designer. She also likes to design clothing and jewelry. If she could, she'd be a professional traveler.
Jaemes is a Physicist with an interest in the Philosophy of Science. He also plays for several, less heady, musical groups.
Sonya: What does the future hold for Blood of Roses?
BofR: Most of our fan base is in Europe, so we are actively pursuing labels in Italy. Perhaps we will be seen on a stage in Rome or Florence sometime soon.
Sonya: Please add any other comments you wish to make...
BofR: We wish to thank you for all of your interest and support. We really appreciate your sharing our art with others who might find interest in us. PLEASE FIND US FINANCIAL BACKING!!!!!!!! (ahem...) ;)