1c22 INTERVIEW: Blink 182
Interview with Travis Barker (Blink 182 Homepage)
By: David Jenison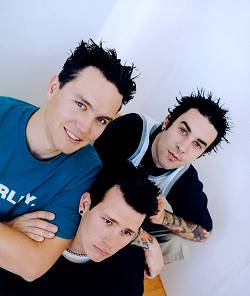 Some people call the band childish. Others call them offensive. But for those of us that like potty humor and masturbation jokes, Blink 182 is the band with enough sarcasm, junior high antics, and South Park-style humor to make you feel pleasantly immature again. Their 1997 album, DUDE RANCH, spawned two hit singles with "Dammit" and "Josie" and a gold record for the band, which allowed Blink 182 to intensify their antics since much more is forgiven with a hit band. As the success rolled into 1998, Blink 182 christen their next two cross-country jaunts as the Poo-poo Pee-pee Tour (with Unwritten Law) and the Race Around Your Uranus Tour. All the shows included goofing off on stage, politically incorrect humor, and more uses of the words "rad" and "it's all good" than anyone should ever have to hear.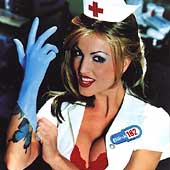 Blink 182's new album - ENEMA OF THE STATE - came out on June 1st with more juvenile humor and demented commentary to appease their loyal fanbase. The members of the band - Tom Delonge (guitar, vocals), Mark Hoppus (bass, vocals), and Travis Barker (drums) - may shock people with their words and songs, but they always tends to get away with it because of their well-known reputations for being such friendly, honest, and generous people. Happy recently caught up with Travis Barker to discuss hydrotherapy, the new album, and their twisted sense of humor.

---
Why this fascination with enemas?
"We started giving each other enemas a while back because we were tired of living with each other's stink on the tour bus, and now we are obsessed with them. I think Tom was the first person in the band to be given an enema."

Did he do something bad?
"No, he did something good."

Do you mess with each other a lot on the road?
"Yeah, we mess around, mostly gay stuff," he says jokingly. "We kiss each other, but that's it. You have to make touring fun if you are going to spend four months at a time with each other."

I meant do you play jokes on each other.
"On planes, if you fall asleep, there's going to be a sign above your head saying, 'Dreaming of naked men.' We pants each other in the airport a lot, especially if there's a big crowd of people. It's that kind of humor all the time. I've pants Mark at many shows. I spit on Mark and Tom a lot, too. They like to tell everyone in the crowd that I'm looking for a boy to spend the night with. If there's a quality dude out there, I'll take him. It's all good."

What do you like about touring?
"I like every show where there are topless girls and nudity. We get a lot of bras on the stage. I really like seeing naked girls. I'm looking forward to the Warped Tour this summer. We just got back from Rip Curl's Offshore Competition in Australia. It was rad."

Do people ever get offended by the things you say?
"We've had other bands say something. We played with some, like, independent rocker bands, and they were kooks. One time we were talking about vagina and telling the girls to show us their tits, and this band got all mad. They said it's lame to talk about boobs to your audience. I just wanted to tell them to grow up. This one band from Washington called Modest Mouse was super bummed at us. They said we talked about dick and vagina too much, and that we offended everyone. But it's all good."

What can you tell me about the new album?
"We didn't hold ourselves to a standard that said we needed a certain type of song because that's the type we had on the last album. We were concerned with having good songs, not just songs that go two hundred miles per hour. The album is very diverse and not as repetitive as the others. We have some rock songs, some super-hyper punk songs, and even a mellow, emotional song. We weren't afraid to try something new."

What type of topics do you address on ENEMA OF THE STATE?
"We talk about girls. We talk about falling in love. We talk about diarrhea. We haven't changed - we've just grown up a little bit. Tom still talks about fuckin' someone's mom and that kind of stuff, but it's definitely a step up."

Whose mom?
"He used to say Mark's mom, but we changed it in the studio. That's just dumb. Now it says, 'your mom,' so it could be anyone's."

What's the most offensive song you've released?
"Probably the shit-piss song, but that was only available on a Fat Wreck Chords compilation. It's a thirty second song with all our favorite cuss words in it."

You said there's a serious song on the new album. Why is it serious?
"Mark wrote the song, 'Adam's Song,' about being on tour for so long and then coming home and feeling like we've lost touch with everything. It's really sad. We don't talk about fuckin' or touching anything in this song. It's deep and super slow."

Is it that hard coming off tour?
"It is. The first few days, it's hard to relate to anything. You want to hang out with your friends, but you feel like you are on a different level than everyone else. It's not like rock star different. It's like, your friends want to go out, and you just want to catch up on some sleep. You are not used to being home. On tour, you never have a home, you don't get used to anything, and you're always super busy. If you have a girlfriend at home, it's even worse."

How do you adjust?
"I just mellow out for a day. I sit in my room, watch TV, and do my laundry. This time I'm going to fly some friends out for a few days on the tour. I used to have friends come on tour and work as my drum tech, but they get bummed out when I have to tell them what to do. This time I'm just going to fly them out and let them hang. It's all good."

Is it harder to write songs coming off a hit record?
"It's all good. We just wanted to write a bunch of songs that we thought were good songs. We wrote sixteen songs and put twelve on the record. It all worked out really well. I think we have a couple songs that will do good on radio. We did not mean to write them, though."

How do you not mean to write a radio song?
"We just wrote songs that seemed good to us. We wrote the album in like two weeks. We could have had more time, but we accomplished what we needed to in the two weeks."

How did you guys keep such a level head writing the new album?
"We just don't think about it. We never worry about the big things, just the small things. The rest just comes to us. With the new record, we weren't sure if anything would be good for radio at first, but when we finished, we realized that all these songs were super-catchy and super-hooky. We were stoked on them. We actually had to fight over which song would be a single. It's all good."
73c