Sally Taylor
Apt. #6s (Blue Elbow)
By: Alex Steininger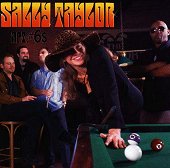 Sally Taylor is hard to put a title on. She embodies the laid back feel of folk, but her songs are too bouncy, too pop, to be considered folk. And the opposite is true, too. The songs are too folk-y and too jam-based to be straight-ahead pop. But it is in the middle where Sally meets both styles and that is where she brings them together and makes them her own.

"All This Time" drills a punchy beat into your head. "March Like Soldiers" showcases Taylor's soaring voice. Graceful and beautiful, she burns you with each word without causing any pain. And then there is "Give Me The Strength," a slow song that centers around the words rather than the light piano that dances around the song.

Taylor deserves to be up there with the best of the female singer/songwriters. Her ability to fuse easy-going folk beats with bouncy pop is uncanny, and will have you enjoying her when you want to move or want to relax. I'll give it an A-.