Los Mex Pistols Del Norte
Esta Noche We Ride (NMX Records)
By: Alex Steininger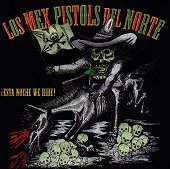 I wanted to like this record. I really did. Mexican party rock with some surf and jam thrown in. How can you go wrong? You would think you couldn't. But, indeed, you can. This album sounds like the background music to your visit to a cheesy taco stand with a put-put Golf course on the same lot. That's right, this is Mexican Carnival Music. And, though it can be entertaining, it wears itself thin - fast.

After listening to this CD a few times the only thing it compelled me to do was go stuff my face with Don Miguel burritos and think about dirty, dingy late-night Mexican restaurants throughout the city. And, though those are pleasant thoughts sometimes, I'm sure that's not what the musicians were aiming for. I'll give this a C-.