Cherry Poppin' Daddies
Soul Caddy (Mojo Records)
By: Alex Steininger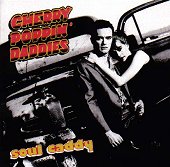 Back to what they've always been about, Cherry Poppin' Daddies choose to expand beyond the success of Zoot Suit Riot's swing theme, digging into everything from disco to metal. Soul Caddy, the band's fifth full-length, and second for Mojo Records, delivers the eclectic punch that made CPD a Northwest favorite and later on a nationally known band.

"Diamond Light Boogie" will have you moving to the disco-rock. "God Is A Spider" is a hard-edged rock song. "Swingin With Tiger Woods (The Big Swing)" gives you a taste of the swing that propelled CPD to platinum status. And old favorites like "Irish Whiskey," a song that first appeared on the Daddies third full-length, Kids On The Street, gives you some metal-pop-punk to swallow.

If you were disappointed that the Daddies made their name off of swing, when their back catalog has always been so much more than that, than you'll be pleased to hear Soul Caddy. I'll give it an A-.