Alien Crime Syndicate
From The Word Go (Will Records)
By: Alex Steininger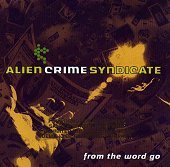 Finally their Gil Norton produced (Pixies, Foo Fighters) full-length is seeing the light of day. Recorded two years ago and then caught in major label limbo, Alien Crime Syndicate thought this would never be released. They went ahead and recorded Dust To Dirt, one of the year's best pop albums and put that out. Quickly following its release, Will Records decided to license From The Word Go from Giant Records and release it for the world to hear.

Not as punchy or tight as Dust To Dirt, From The Word Go is still a fine space-power-pop album that is filled with juicy hooks, solid songwriting, and beautifully crafted melodies that prove Joe Reineke has what it takes to be all over the radio.

An amazing album in its own right, From The Word Go doesn't surpass the energy or infectious-ness of Dust To Dirt. But with songs like "Land We Made up" and "In A Dream", as well as different versions of plenty of ACS favorites ("Take Me To Your Leader", "When I Get Home", and "Always Running"), you can't go wrong here. I'll give this an A.