Nickelback
The State (Roadrunner Records)
By: Alex Steininger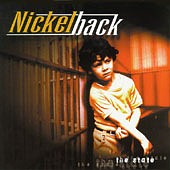 Shitty hard rock that sounds like all the other shit on the airwaves. Melodramatic vocals with plenty of drama in the lyrics wrapped around the buzz of the guitar and the thunder of the rhythm section.

But, what distinguishes this band from the hordes of others that just plain don't make the grade is their rhythm section. It's fiery, meaty, and punches you in the gut over and over gain. Sure, the rest of the music is horrid, but the rhythm section helps make the songs at least able to stand on their tippy-toes. I'll give it a C-.