The Deftones
White Pony (Maverick)
By: Alex Steininger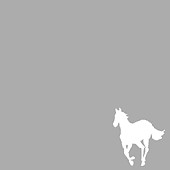 Loud! That is the best way to describe the latest album from the notorious hard rock act The Deftones. Here is an album that is extremely loud, extremely heavy, and takes things to the extreme over and over again. It's the hard rock album of the year, hands down.

Your mind will explode as the guitars rip through your ears, the bass smashes your eardrums, and the drums shake your body so hard your eyes fall out of their sockets. Fuck hard rock, The Deftones are the kings now, hands down. Anyone want to compete for the thrown? Not after they hear this album. Hard rock perfection if there was ever such a thing. I'll give it an A-.