Needulhed
Superhero Undead (Needulhed)
By: Sonya Brown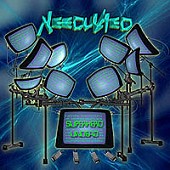 They're baa-aack! After the 1998 release of Pave The Planet, Needulhed is back with a new look, and a new CD, Superhero Undead.

My favorite tracks on Superhero Undead include the Gary Neuman-ish "Bad Trip"; and a sort of 60's synthy tune called "Ride The Wave"... Oh, and of course, the trippy little cover of Devo's "Whip It"... but something that I found most interesting on this cd is the combination of acoustic guitar and electronics on 2 of the tracks, "Scream", and "MindSnap". I asked Mortimer about these 2 tracks. Mortimer replies, "Yes it is an acoustic guitar. What I did for Scream is sequence the driving keyboard sound, along with the other sounds and samples, and play the acoustic guitar throughout the song. The distorted guitar comes in on top of everything in the chorus, but for our live shows we have the distorted guitar sampled, along with the sequence so we sound identical live as we do in the studio. I play the acoustic live as well on this song. We did pretty much the same thing on MindSnap, although the acoustic is used as a texture type thing, as opposed to it's own instrument, because I combined it with an electric clean sound. For the live sound, I use the electric guitar with a clean sound until the Chorus comes in. That's when I kick in the distortion. The ending of this song was strictly done in one take, no overdubs, and was done with a couple of stomp boxes, my Marshall on 10, and a lot of wicked feedback. Basically, we had very little lighting, so the mood was there, and when the ending came up, instead of doing a conventional lead, I chose to have a feedback sound effect on top of it. But this ended up turning into something that I couldn't have imagined and it was basically done by sweeping the tone and volume levels while a harmonic note was lingering. It was a pretty intense moment."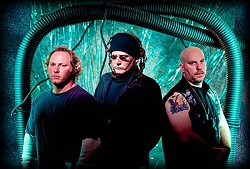 Needulhed's latest press photo shows the band "sans" their trademark make-up. I asked Mortimer about the line-up changes, and the new look for Needulhed. He replies, "Well, the only change since Pave the Planet is that Snip left the band and was replaced by Nack. Weeks is still the bass player and I'm still the guitarist/singer. For the past four years we had been known for our "look" and it did, to an extent, help us. But what can help you, sometimes can hurt as well, and the look started to become more of an identity than the music. We were being grouped strictly into the goth category because of our look, yet our music isn't goth. It has industrial elements, and sometimes can be dark, but it is certainly not goth. We decided that if our music is to be taken as seriously as we take it, we have to be ourselves and not hide behind the makeup. It was a big part of our lives, but it was also a time for a change. In our new picture, from left to right, you have Weeks, Mortimer(myself) and Nack."
Superhero Undead is a heavily synthesized 12-track cd that assaults you from the get-go with the first track (Acid), and keeps going strong right through the final track (Enemy Within). You can just FEEL the energy that Needulhed generates!