Steve Von Till
As The Crow Flies (Neurot Recordings)
By: Alex Steininger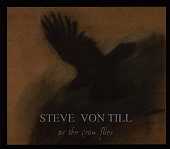 Tranquil and easy-going, Steve Von Till's As The Crow Flies is seven fine examples of modern folk that have the guts to get across what they want to get across. But, it is still soft and quiet enough to just spin in the background while you go about your daily lives and absorb the subliminal sounds.

"Stained Glass" resonates while moving forward, hitting you with trickling notes that bleed into the next without letting you know that they've passed. Von Till's voice is remote but up front, passing time with pauses and drawn out words, all while managing to say something.

"Warning of a Storm" is eerie, yet curiously enchanting. It's breezy, sedative sound sends chills up your spine, and it is this very factor that, by all means, should scare you, but leaves you craving more.

And "Shadows in Stone" drifts by in a passive-aggressive way, giving off a take-it-or-leave it attitude, yet still managing to keep you listening attentively as you draw your ears closer and closer to the speakers to hear the quiet, quaint guitar and whispery voices.

Soothing and haunting, chilling and enchanting, Steve Von Till manages to add life to the mundane, drawing you in where others would push you away. I'll give this a C+.