Stewart Brodian
Misplaced Messiah (Brodian)
By: Gary "Pig" Gold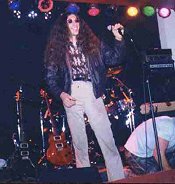 The always reassuringly eclectic Mr. Brodian has for many, many years now been many, many things to a great many people: label domo (his Mountain compilations were among the first to expose the fervent New Jersey Indie Scene to the world), DJ and open mic maven (tune in today to Radio WDIY!), and self-publisher of some of the nation's most dangerously correct political observations (write to the address below for the latest issue of "Nickel," OK?)

It is primarily in the role of the latter that Stewart recorded the most astutely titled MISPLACED MESSIAH, for few and far between today are the voices in the wilderness who will not only Yak It Like It Is without crouching behind the guise of some loudmouth goofball (hello, Stern 'n' Limbaugh), but will go the extra mile - and dollar - to press it up on CD and mail it to you for a mere five bucks. Some of the topics dealt with on this disc may seem a tad trite ("Steroids") or even overdone ("Guns", "Racism"), and some may initially be off-put by the unmistakable aura of hippie which permeates this, and much, of Stewart's work (then again, better hippie than punk, others will correctly argue).

But given an hour and a bit of concentration, this most unarming and deceptively unassuming slice of The Gospel According To Brodian may create much more harm than a bucketful of Tupac or Sting albums ever could. Why? Because MISPLACED MESSIAH might actually make you... THINK.