SHOW REVIEW: Inertia/Noxious Emotion (Paris Theater) and Sumerland (Dante's Inferno)
Portland, Oregon - Friday, June 23rd, 2000
By: Sonya Brown



Dueling venues...

With Sumerland performing a summer solstice celebration at Dante's (thus being re-dubbed "Summerland" for the evening); and Noxious Emotion and Inertia performing at The Paris, it made for a difficult choice of the nights entertainment. Fortunately, these venues are located within staggering distance of each other, so it was possible to enjoy all the performances... IF you had the timing and the desire to do so. My "partner in crime" and I decided we were definitely up for that challenge!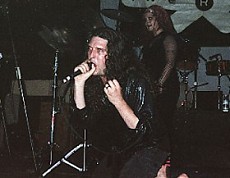 Noxious Emotion is one of my favorite bands. The intensity of the stage show is transcending. The percussion shreds through your body and forces you to behold the dynamic drumming fused wholly with Mike's severe vocals. Fritter, primary percussionist, is incredibly powerful and visual - standing during her entire performance. There is also a great deal of audience participation when a large industrial barrel is tossed into the audience (along with a handful of drumsticks) for the audience to join in with the already heated percussion, resulting in an industrial frenzy of pounding beats. It's always a delicacy for me to catch a live performance of Noxious Emotion, and they performed such favorites as Indefinite and Unspecified, Nobelium, Integral, Inertia, Molybdenum, Titanium, and Mass; as well as Entity by Project Pitchfork.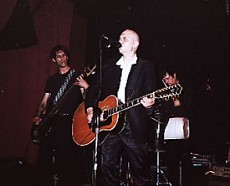 OK, mad dash back to Dante's where Sumerland is performing the first of what turns out to be 2 sets. The first set (their more formal set) included tracks like Exalted City, Circle Dance,and Morpheus (which are featured on their breathtaking EP "And all is always now"). Dorien, with his perfect deep vox, has the power to drift through your soul and carry you off into a state of harmonic bliss. Time for a few drinks and a few dances before the run back to the Paris...
Back at the Paris, it's time for Inertia. While the set was plagued with some marginal sound problems, Inertia managed to captivate what should have been (in my opinion) a much larger crowd. No matter, it was wonderful catching this rare performance of such a legendary band.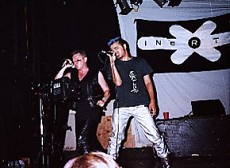 Inertia hails from London, and can best be described as a bit of electro-goth with a gothic/industrial past. They have formed a new label, Cryonica Music, and have appeared on many compilations and remixes such as the Cleopatra 2000 cd featuring Razed in Black - Nightmare (Inertia Wake up mix), and Missing Persons - Mental Hopscotch (Inertia Digital Move mix); and Das Ich - Den ich dem traum (Inertia Insolence mix) on Danse Macabre; among many, many others. Having a stage-front viewpoint of the dynamic interaction between Reza and Alexys was an absolute thrill. The band was also quite receptive to their fans after their performance; and I was thrilled to meet with the beautiful and talented Alexys, and to learn about their new label, Cryonica Music -http://www.cryonica.com/label.htm - a sister label with Nightbreed UK http://www.nightbrd.demon.co.uk/.
As The Paris closes for the night, it's time to catch the final set of Sumerland back at Dante's. A much more "relaxed" set for Sumerland which included a special treat! Dorien performing "Juvenile", a song which used to be included in their live set quite regularly; but which I had not seen performed live for quite some time. Another special treat was an encore performance by percussionist, Enrique, with an exotic solo presentation to conclude the evening.
What an incredible night, further convincing me that Portland is the place that I always want to call home. A place that affords us such opportunities as to dash back and forth between two venues, catching the performances of 3 wonderful bands... and, fortunately, we had the timing and the desire to do so on that warm summer night.
Photos Courtesy of Nocturnal Movements.