The Forty Fives
Get It Together (NG/Artemis Records)
By: Alex Steininger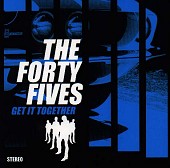 Fuck yes. That is what I have to say about this album. Rock 'n' roll has been lacking from modern rock for way too long. Not to say that modern rock is even in the same ballpark as this album, because it isn't. But, just as country music today is nothing more than Nashville pop, modern rock these days is overly produced, soulless crap mass marketed and way too stale. That is where The Forty Fives come in. This Atlanta four-piece delivers crisp, energetic, soul-drenched rock 'n' roll that has equal parts 60's R&B shake and mop-top pop grooves.

Here is an album you can put on your stereo, blast as loud as possible, and throw one hell of a party too. And, the neighbors, if they have even one ounce of hip-ness in them, won't complain. They'll come over to your house and get into the music, too. It's that infectious! The organ-drenched songs ooze of soul, while the R&B-inspired rhythm section grooves with the best of them. Not to mention the wailing guitars, which gives everything a shot or two of classic pop momentum, while the vocals hip shake the music into high gear with more 60's feeling.

This isn't retro. Rather, this is the savior of rock 'n' roll - modern rock, if you will - at its best. If rock is to exist in the new millennium, than The Forty Fives need to keep going, spreading the gospel of rock through their R&B and pop soul-grooves, and amass a huge fan base. Because I have seen the future, and it isn't more boring, soulless rock, but rather innovative bands who can take from the past and re-work it for the future. Here is the real deal. I'll give this album an A+.