Papa Roach
Infest (Dreamworks Records)
By: Alex Steininger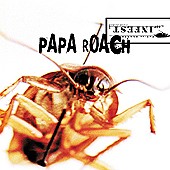 In a current trend that's exploding across the nation, due to the record sales of like-minded bands such as Limp Bizkit, Korn, Deftones, Rage Against The Machine, and many others, comes another act that plays the same thing everyone else is playing: rap-metal fusion.

Unoriginal, uninspired corporate rock bullshit with plenty of loud, crashing rhythms, rap screams, and violent guitars coupled with a bit of a radio-friendly edge, a commercially placed hook here, and a slick wrapper, Papa Roach re-tread everything that's already on the radio with their own stamp on it.

Heavy, without any substance, all frills, while trying to pass itself off as deep and intellectual, Papa Roach is just another brick in the all of rap-metal fusion acts that, instead of finding their own voice, just borrow ones that are already selling. I'll give it an F.