INTERVIEW: Simon Stinger
New Wave Glam Punk With Charm
By: Alex Steininger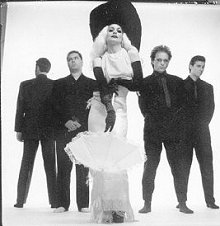 San Francisco's Simon Stinger embodies rock 'n' roll to its full extent; they're fun, fashionable, loud, and don't follow just one musical path or vision. As frontwoman Alicia Perrone states without a hint of egotism, she "[hasn't] heard other band's doing the 80's thing like [them]."

That is because Simon Stinger takes the best of the 80's new wave, sprinkles in some punk rock, Glam, and then a shot or two of Gothic charm, before unleashing a load of wild, uncontrollable mayhem in every note.

Alicia contributes the band's eclectic, but always rocking sound to the fact that she "was heavily influenced by the writing of Ann-Margaret and show tunes whereas Victor, the other songwriter in the band, was influenced by Kiss, Marilyn Manson, make-up and shock rock. Also, our drummer loves The Clash and old punk; Marcus is into Tom Waits and experimental stuff; and Brandy, our new keyboard player, loves Lords of Acid."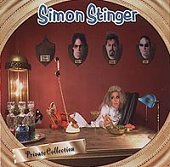 But the band hasn't always been a solid rock 'n' roll act that is able to maneuver between crisp new wave, aggressive punk, sexy Glam, beautiful pop, and eerie Goth. "Our first record, Private Collection, was more pop-punk," Alicia says with some disappointment for the album. "The guitar player we had was more into the pop-punk thing, so that is why the record came out the way it did."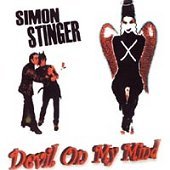 But when the conversation turns to their latest release, Devil On My Mind, a ride through thirteen solid tracks, all the disappointment is forgotten as she cheers up and becomes very eager: " Devil On My Mind is more mature. It's not pop-punk at all. The old one got the pop-punk tag a lot, but this one hasn't gotten it at all, so I'm very happy about that."
She continues to discuss the new album, pointing out some key factors that she contributes to the fact that the album came out so well. "With [ Devil On My Mind] everyone was put up against the wall and they came through will flying colors," she happily reports. "Our producer, Josh Ryan, brought things out of us that we didn't know we had."
But, even prior to the release of Devil On My Mind things were looking up for the band. They landed an opening slot on one of the MP3.com-sponsored Goo Goo Dolls' shows, and landed their song "Fringe Authority" (found on Devil On My Mind) on Kirk Douglas' movie, Diamonds.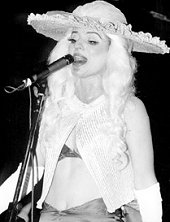 "It was very exciting [opening up for the Goo Goo Dolls]," Alicia says with positively. "It was the best show we've played so far. There were six to eight thousand people there and we got a lot of new fans for the show. We have nothing but good things to say about mp3.com. They've been great to us. Joe, who works there, is our biggest supporter."
As for the Miramax film Diamonds, Alicia feels lucky for the opportunity but a little disappointed that the film never really got a shot. "It was really cool [having a song on Kirk Douglas' Diamonds]. The movie bombed, though. Kirk Douglas got rave reviews, but the movie was only shown for like two weeks out here." Alicia continues, "It was a really cool experience, though. Dan Akroyd and Kirk Douglas were both really nice."
With a hot new record out and each new day bringing in more fans, it looks like the sky is the limit for this fun-lovin', energetic, kind-hearted, and all-out rock 'n' roll act. But, Alicia and company also know that to make it in this sleazy industry, business savvy and luck go hand-in-hand, and if you don't have those two things going for you, you're chances are slim to none. That is why, when the conversation turns to radio, she is very forthright and honest when she admits that she "want[s] the songs on the radio."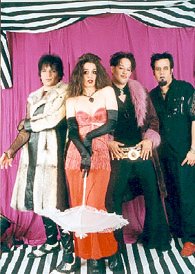 She furthers that comment by backing it up with the reasons why she wants her band plastered all over modern rock radio: "We want a wider audience to hear our songs. I love the radio and would love to be on constant rotation. It's like mp3's; they reach a wider audience and we're all for that."
The conversation soon turns to radio in general and the death of real rock 'n' roll in the marketplace. With bands like Bush, Third Eye Blind, Everclear, and Better Than Ezra taking up space, and bands like The Replacements, X, and Husker Du never getting their fair share for paving the way for teenie, watered-down rock to clog up the airwaves, Alicia leaves us with a statement that sums up the current trend of popular music:
"Generations today are so deprived."
Ah, I couldn't have said it better myself.