VARIOUS ARTISTS
Wish You Were Queer: A Tribute To Ministry (Invisible Records)
By: Alex Steininger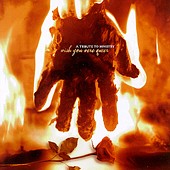 Hard rock-industrial leaders Ministry are saluted on Wish You Were Queer: A Tribute To Ministry. A collection of tracks featuring some of the hottest electronica and industrial artists out there re-doing their favorite Ministry songs to fit into their repertoire, Wish You Were Queer finds Ministry alive and well in the decade of technology.

Meg Lee Chin's version of "Scarecrow" is a provocative combination of seductive vocals, deep drumbeats, slicing guitars, and eerie programming. Pig's take on "Just Like You" burns you with intense drum programming, a pulsating electronica beat, and mysterious vocals. Hate Dept's "Effigy" is mystical and trance inducing. And Death Ride 69's cover of "Burning Inside (Drum Fetish Megamix)" sweats all the impurities out of you with a hyper drum machine, wicked vocals, and a snarling bite of industrial rage.

TRS-80 delivers a sonic groove on "Everyday is Halloween"; Here send the electronica into hyper speed with "Lay Lady Lay"; and Meathead brings home the noise on "Say You're Sorry".

Ministry fans will welcome the fresh and innovative take on their favorites. From speedy electronica to snarling industrial, and everything in between, all the music that Ministry has influenced and inspired is incorporated into this album; I'll give it an A-.